<< All News
Wednesday, August 30, 2023
Categories: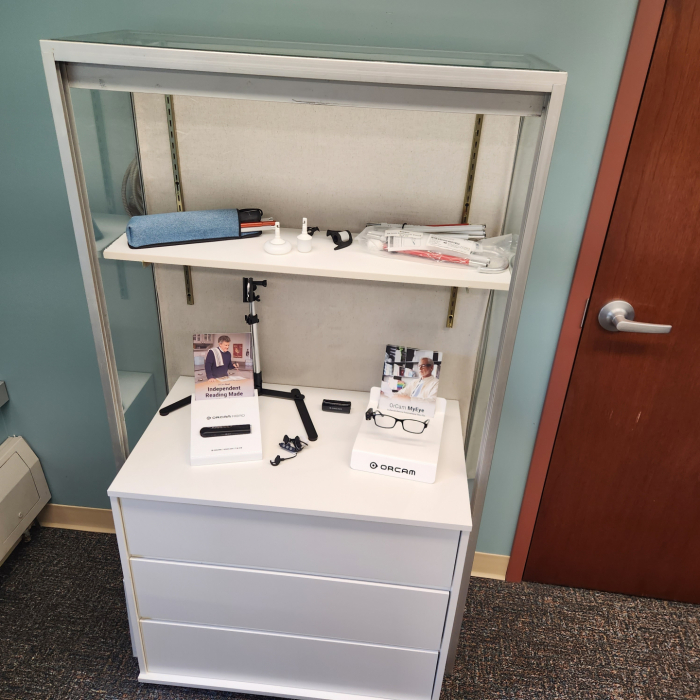 The Store at NDVS/SB has a new look! In order to give customers more privacy when trying out and purchasing products, the Store moved into the Vision Resource Center area. A corner of the VRC is now cordoned off with portable walls, and Store products are featured there. Now, when you come into NDVS/SB to visit the Store, you will have more privacy when trying out products and when visiting with Ryan, the Store Manager, or someone else who may be helping you. Come in soon to see the new look for yourself!

The Store also has a couple of new products for demo and for sale. The OrCam is a lightweight smart camera that attaches magnetically to the frames of glasses. Using artificial intelligence, it acts as an "eye," while audibly reading printed text aloud from any surface. It can also recognize faces, products, and money. You can read more about the OrCam here. Or, stop in to the Store to try it for yourself. 

The Vario Digital FHD desktop video magnifier is another new product at the Store. While it may look like other video magnifiers, its image quality and customizable settings make it worth the upgrade. It has a 15.6" HD monitor with 1.3x – 45x magnification. The Advanced version also comes with a rechargeable battery, making it a portable option. Large tactile buttons and easy-to-turn dials make it ideal for any level of vision loss. The Advanced version also comes with an HDMI port so that you can hook up an external camcorder that can be used for distance viewing. 

Stop into the Store to demo either of these new products or to purchase the cane, magnifier, or other assistive technology device that helps you live an independent life. If you can't make it to Grand Forks, visit https://www.ndvisionservices.com/services/store, call Ryan at 701-795-2714 or email rltorger@nd.gov to place an order or to learn more about any of these products.
<< All News