Medium
A wide variety of print materials can be embossed in the raised-dot format used by braille readers. We are able to braille-transcribe items such as:
Medium
Reports
Programs and Agendas
Catalogs
Flyers and Brochures
Handouts
Elementary Music
Meeting Minutes
Letters and Memos
Ballots
Training Materials
Children's and Juvenile Books
Directories
Schedules
Menus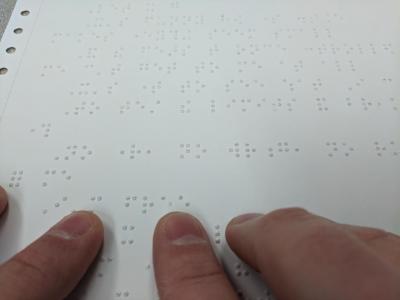 Medium
The cost for this service is $15 per hour plus 15 cents per braille page. Comb binding and labeling cost $3 per volume. To estimate the cost of your braille project:
Figure approximately $1.25 per braille page
Expect each print page to equal approximately three braille pages
Remember that complexity of the material affects cost. Tables and other special formatting will be more costly than straight text
Remember that submission format will affect cost. Material that must be scanned or entered by keyboard will cost more than material received in electronic formats
Be sure to allow adequate time for your materials to be braille-translated, embossed, and shipped to you in time for your anticipated use.
Materials can also be duplicated in large print and electronic media.
Braille Greeting Card Service
The Braille Access Center has a selection of tactile-and-braille greeting cards for common occasions such as birthdays, Hanukkah, Christmas. We will gladly "sign" a card in braille for you and send it directly to a braille reader.