<< All News
Monday, March 7, 2022 - 11:00pm
Categories:
All News Items
Adult Programming News
Assistive Technology
by Laurie Westling, Assistive Technology Specialist
North Dakota Vision Services/School for the Blind is a pilot site for WayAround Public Tags. We are working with WayAround to add WayTags throughout our building. We started with the main restrooms and the Coca-Cola vending machine. We are currently working on the other public restrooms in the building, and then we will work on the elevator and the exits.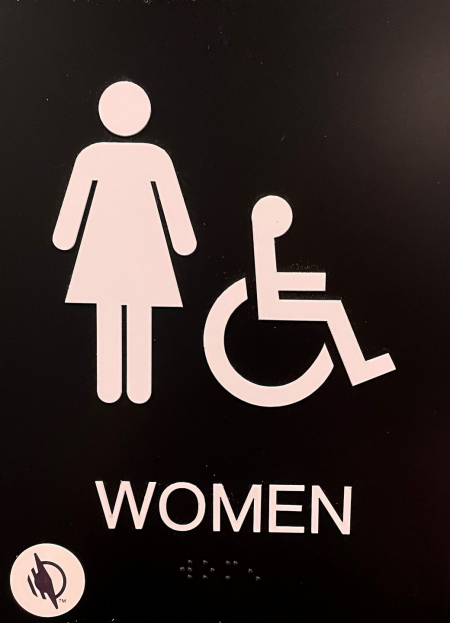 When you scan the tag on the ADA sign near the restroom, it gives you the location of the restroom door both with a picture and audio description (if using VoiceOver or TalkBack).  If you continue down the page you are presented with an overview of the restroom, features available such as location of the accessible toilet stall, sink, hand dryer, and trash can. Under additional restroom features, you can learn about baby changing stations, coat hooks, door locks, and other available features.  

To use the WayAround tags in our building, simply download the WayAround app from the Apple App Store or the Google Play Store. The app is free to download and use. It takes just a few minutes to set up an account, and then you are ready to scan.  

The technology that WayAround uses with its WayTags is called near field communication (NFC).  It is the same technology used for Apple Pay and Google Pay. The NFC reader on an iPhone is located on the top edge of the phone. On an Android phone it isn't in a standard location but most often it is on the center back of the phone. Using NFC means you don't have to focus your camera to read the tag which is a big plus for an individual who is visually impaired.

WayAround can also be used by individuals to label items in their closets, pantry, toolbox, or anywhere around the house. WayTags are created using the app on your smart device. There are seven types of WayTags available for use with WayAround. They include stickers both for metal and non-metal surfaces, clips for metal and non-metal items, magnets, and two-hole and oval hole buttons. The tags can be used over and over again.  The buttons are safe for the washer and dryer as well as the freezer.

To learn more about WayAround or to purchase WayTags, go to http://wayaround.com . If you have questions about using WayAround or would like a demonstration, please contact Laurie at 701-795-2710 or lchaput@nd.gov or Tracy at 701-795-2720 or trwicken@nd.gov in the NDVS/SB Technology department.
 
<< All News