<< All News
Thursday, December 9, 2021 - 11:00pm
Categories:
All News Items
Instruction
Student Programming
by Cindy Williams, Student Program Coordinator

It has been such a joy to have our students back in our building and partaking in our short-term programs in person! While students attend our programs, we instruct in the areas of the Expanded Core Curriculum (ECC). The ECC goes beyond academic skill areas and was designed for students with visual impairments to support the development of skills that a student might not be able to learn by visually observing others. This semester we've had a full house for our numerous student programs. 

We started out the year with our middle school program in September. Our theme focused on the game of LIFE. Besides instruction in their individual classes, the students partook in various educational and social activities which included: 
•    Playing the adapted/accessible (large print and tactile) LIFE game each day.
•    Discussing various careers/jobs in the game and what type of education is needed to pursue those careers. Salaries and incomes were also discussed along with living expenses and how much a house costs.
•    Throughout the week, we worked on strengthening self-advocacy, improving listening and communication skills, and exploring personal strengths. The students introduced themselves and also named and described their visual condition and described helpful accommodations/modifications to better advocate for oneself. Some students created brochures about themselves; others wrote an essay for a Lion's contest. 
•    Listening to a presentation from one of our students, Madison, and her experience and adventure of running for Miss Amazing at the national level after winning locally for ND.
•    Some students created a silhouette painting of the sunset, and other practiced their conversation skills using the app, Conversation Builder.
•    One evening for supper, we ventured to Perkin's restaurant. This was a social and learning experience. All the students spoke to the wait staff and ordered on their own. Mobility skills, such as sighted guide, were practiced while we were out in the community along with proper etiquette. Money skills were also discussed, including appropriateness in tipping. There is so much to learn and experience while dining out and taking on the responsibility yourself!
Our elementary program in October was based around accessible sports and included our Walk for Vision Olympics in support of the North Dakota Association of the Blind. Students tried out various accessible sports and also learned about self-awareness including strengths and weaknesses. During our elementary programs, students are busy in their individualized ECC classes. They also enjoyed learning, playing, and reinforcing their skills in the game of goalball which was a focus of the program. Goalball is a team sport designed specifically for individuals with a visual impairment. Some members of the Delta Gamma Sorority joined us one evening to play with us! Other group activities included a hands-on music activity and creating a yarn pumpkin. The students ventured out for a field trip to the Nelson Pumpkin Patch one late afternoon, and to Choice for swimming one evening.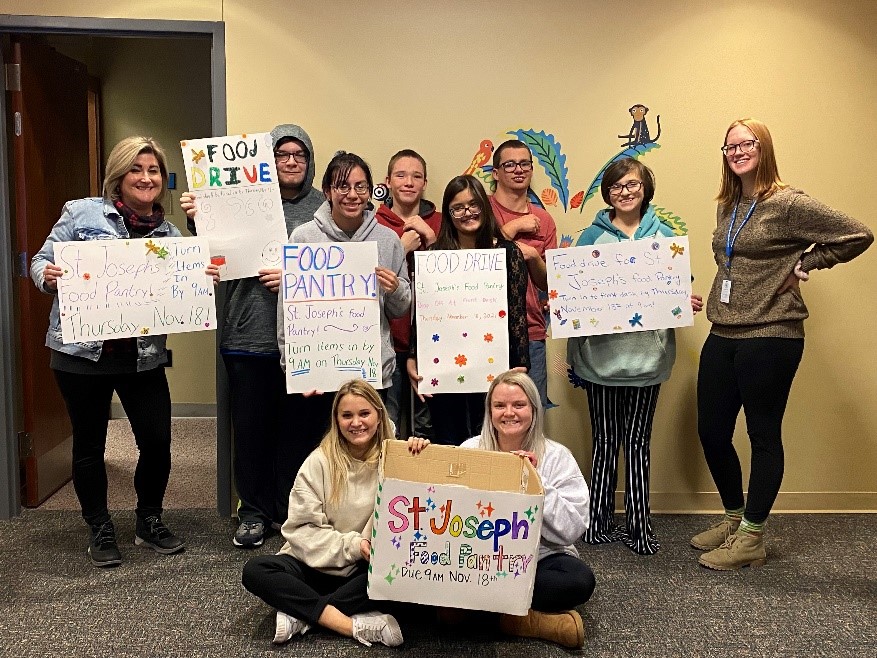 Our career/teen program took place in November and included our Independent Living Program. This entailed staying in an apartment with roommates, making a grocery list, shopping for groceries, cooking meals (with minimal assistance) and keeping the apartment clean. Some highlights from our program included:
•    Using public transportation with Cities Area Transit
•    Touring Lake Region State College in Devils Lake, ND
•    Partaking in a fundraiser/food drive (for St. Joseph's food pantry) which involved creating posters to advertise for the drive and assisting in set up and preparing a baked potato bar
•    Vocational tour of Scheels and Hugo's 
•    Job shadow experience  
Our last program of the semester involved venturing away from our center-base in Grand Forks to the Metigoshe/Bottineau area in early December. Our late to arrive ND winter didn't provide us enough snow in time to ski and tube in collaboration with Annie's House at Bottineau Winter Park; however, our middle and high school students enjoyed a couple days filled with wonderful learning opportunities and experiences in the area. During this adventure, we worked on the Expanded Core Curriculum (ECC) while participating in outdoor activities in North Dakota's scenic Turtle Mountains. Students received instruction in O&M as they navigated their way along the Tenderfoot Loop trail at Metigoshe State Park and took part in their Toy Factory Escape Room solving puzzles and games (using Compensatory Skills) helping to free Santa from being stuck in the chimney. They also had a groovy time using their O&M skills while playing Twister Moves and shaking a leg in our Glow Dance Party. Social Skills and Self-Determination were enhanced and covered while introducing themselves, discussing their visual impairment with their peers and meeting new people while out in the community and ordering their meal at a restaurant. Numerous Sensory Efficiency skills were used while partaking in the performance "Hoop of Life" with Kevin Locke at Dakota College at Bottineau. The students listened to his message on our universality as a human race, heard his enticing singing and wooden flute playing, and got to physically use his hoops and try out some of his dance moves and tricks with the hoops. Independent Living Skills were used while making spicy pretzels" and puppy chow, dishing up buffet-style meals, washing dishes, sewing to create an ugly sweater ornament, and stripping and making beds. And of course, Recreation and Leisure was covered during our entire adventure! 

It is a pleasure to serve students during our short-term programs, and our programs serve as an opportunity for students to learn skills in the Expanded Core Curriculum and discover new experiences and independence. If you have any questions regarding our student programs, please reach out to me by emailing ckwillia@nd.gov or calling 701-795-2704
<< All News