<< All News
Sunday, March 5, 2023 - 11:00pm
Categories:
We periodically profile a young adult living with vision loss in North Dakota. Elias Youngblom lost his vision at the age of 23 from an accident caused by a drunk driver. Since then, he has learned to live a full life without his sense of sight and with a sixth sense of humor. Being able to laugh along to his vision loss is not always easy, but he has found it helps him as much as his family, friends, and the strangers he encounters.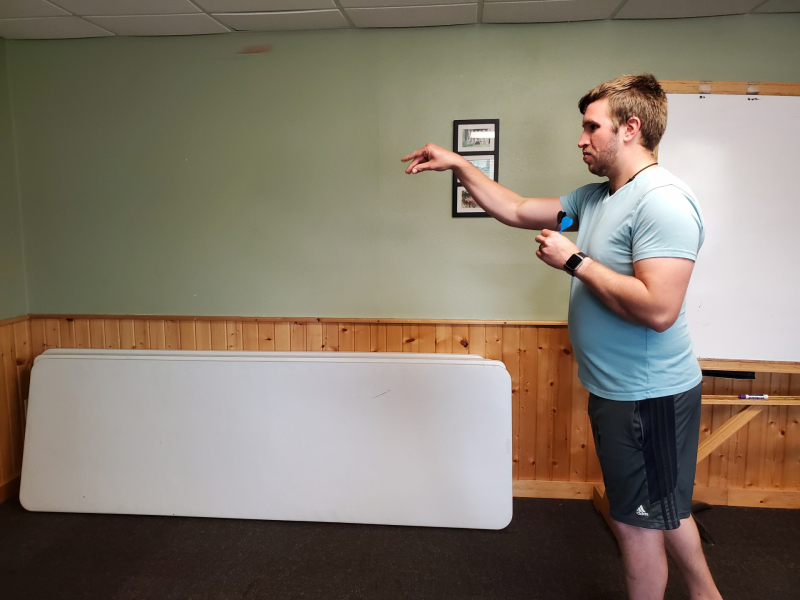 If I poke you in the eye, will it hurt?
Do you want to touch my face?
Is that thing [the white cane] cool?
How do you do stuff?
How do you put on clothes?
How do you spend money?
These are just a few of the questions that Elias Youngblom has been asked over the last 8 years, since he lost his vision. The 31-year-old from Fargo, ND, was hit head-on by a drunk driver who was driving the wrong way down the interstate. Blood flow to both of his optic nerves was lost, which means that while his eyes and brain still function as they should, the connection between them has been lost. One thing that wasn't lost? His sense of humor. While there is nothing funny about his accident – then or now –Elias quickly realized that he needed a positive attitude and laughter in order to survive. He started collecting comments and questions that people asked him that made him scratch his head – or laugh out loud.
There is plenty of humor in the blind and visually impaired community, and like many, Elias has found that having a sense of humor helps others as much as it helps him. "I find that people are more comfortable around blindness if they know that I can laugh about it," Elias explains. "I often try to break the ice with people by making light of my white cane or joking about running into things." Through his humor and can-do attitude, Elias is changing people's ideas about vision loss. "There is very little realistic representation of blindness in media, so we have to be that representation," Elias says. "The more people see blind folks living real lives, the more it will become normal."
Getting back on the bike – literally and figuratively
Elias started changing people's ideas about vision loss soon after his accident. The week after he got out of the hospital, he went back to work with the Blaine (MN) High School drumline. "While I definitely wasn't physically or emotionally in a good place to do so, being back in a situation I was comfortable with was great for me. Being around my students was incredibly positive for me," Elias says. That doesn't mean it was easy to get back to work or life, however. "That first summer there were definitely days that I couldn't drag myself out of bed," Elias remembers, "but any time I was in public I put on a positive face that I thought people expected of me. Thankfully I was also going to therapy to process what I was actually feeling, and eventually the positive face I showed the world became more true to what I was actually feeling."
Since he lived in the Twin Cities at the time, Elias received rehabilitation services from Vision Loss Resources (VLR). Like most people who suddenly lose their vision, "I knew nothing about living with sight loss," he says, but attending VLR part-time for almost a year "slowly introduced me to tools and concepts that opened up a lot of doors." He explains, "Learning how to use my phone and computer was the first thing that really brought me independence. From there, learning cooking basics and how to do household tasks allowed me to get by easier at home." Nine months after his accident, Elias moved into his own apartment, and a few months after that, he bought a house. "I really wasn't great with my independent living skills yet, but I finally felt like I was becoming an adult again," he says.
Elias also quickly learned that, even without vision, he was capable of physically and mentally demanding tasks. "Shortly after my hospital stay, I was approached by a group of guys that are pretty serious about biking," he explains. "They knew that I was an athlete before the accident, so they invited me to ride in a 150-mile bike ride over two days. I said yes, and they made it their goal to see it through." In 2016, Elias biked nearly 500 miles as he learned to ride a tandem bike and trained with his buddies. "After that," he says, "there really wasn't anything I felt like I couldn't do physically." There aren't many things he can't do, period. "The only thing I haven't figured out is driving," he admits, "but I'm sure that's not too far off in the future."
A new normal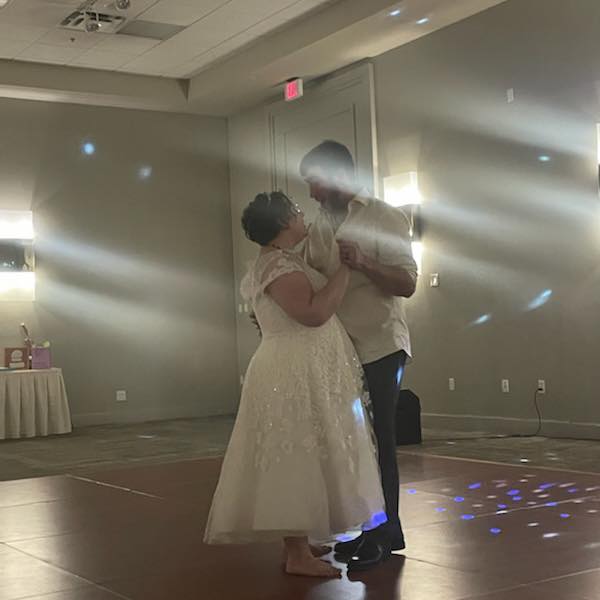 Elias lives in downtown Fargo with his wife Kaity, their two cats, and a tortoise. While he was attending NDSU for music education, he was in the drumline program. Now, he runs that program. Work includes writing percussion music for the marching band, running the percussion rehearsals, teaching a drumline class, and giving private percussion lessons. He uses JAWS, a screen-reader software, on his computer, an iPhone, and Apple Watch to accomplish his work tasks, and his cane to get around. His students treat him like any other professor, although, in his class, they may get teased if they raise their hand. "Obviously I don't see it," he says, but the snickers and teasing from the other students lets Elias know that someone does have a question. He encourages his students to ask him questions about his vision loss, even though they may eventually go into his collection to laugh about later.
Elias had the opportunity to share his story with a group of 7th grade boys. Not surprisingly, one of the boys asked if his other senses are better now that he can't see. There aren't many people who are blind or visually impaired who don't hear this question from time to time. "I explained to them that I don't hear more things than a sighted person, but I use my hearing for navigating." Elias had access to a ball, so he asked that student to clap. "I threw the ball at the sound and hit the kid right in the hands. It went way better than I even expected, and it blew those kids' minds," Elias says.
In his free time, Elias can often be found in his garage woodworking. Surprisingly, Elias didn't begin this hobby until after losing his vision. "If it were not for lockdown and Kaity working from home, I probably wouldn't have. I needed something to do outside so that she could work relatively undisturbed. I ended up cleaning out the garage and realizing there was decent space, so I just started putzing around with stuff," he explains. He's found that he doesn't need vision to create something beautiful. "Power tools are power tools. The biggest difference in how I do things lies in measuring and marking things," he explains. Elias relies on a talking tape measure, a tactile ruler, and a few different angle-measuring devices that can be read through apps on his phone. Instead of using a pencil to mark the wood, he uses either painter's tape, a knife, or another sharp point to cut or scratch a line that he can feel.
"To answer the unasked question, yes, it is scary to use power tools when you can't see. It's also scary to use power tools when you can see. The adage of 'measure twice, cut once' is just as true for safety as it is for accuracy. People assume that the biggest and loudest machines are the most dangerous ones, but they are the ones I am most cautious with. I've had many more cuts from chisels and handsaws than I have from any power tool," he says.
Thankful for his "full life"
Besides humor, Elias also has a healthy dose of gratefulness. He feels fortunate that he had so much support after his accident. "From the night I was admitted to the day I checked out of the hospital, there was maybe eight hours that I spent alone. I was constantly surrounded by family and friends," he explains. "I learned right away that people want to help and that asking for help is ok. Because of this, I developed what I think of as a healthy realism when it comes to things I can and can't do, or what I can do with assistance." But while Elias says he isn't afraid to ask for help, he doesn't want to use his blindness as an excuse not to do things for himself. "If you tell people that you can't or don't want to do something because you are blind, they will probably accept that and let you off. In the long run," he says, "this only hurts you. Blindness isn't an excuse for inability." He advises others who are in a similar situation to "always try things first. You can probably do a lot more than you think. Show the world that blindness isn't a roadblock to living a full life."
He also recommends thanking people who help you. "Most people love to do it, but nobody has to. If someone helps you, even if it's something small, they've gone out of their way to be kind to you, and it's important to recognize that," he says. He's especially grateful for the new friends he's met on his journey with vision loss. "There is a community that has many years of learning how to live with vision loss that is here and willing to help. You don't have to reinvent the wheel to do every task," he says. And while he doesn't want pity or sympathy, he does recognize that "living with vision loss sucks. Being blind or losing your sight is a challenge that most in the world can't really fathom. It's ok to feel bad, and it's ok to be mad or scared about it. Just remember that you aren't alone in it and that there's almost nothing you can't do. It might take more time and energy for you than it would for a sighted person, but that doesn't make it any less worthwhile."
<< All News