<< All News
Sunday, February 6, 2022 - 11:00pm
Categories:
All News Items
Assistive Technology
by Reva Kautz, Marketing Director, ND Assistive
This article is from our partner agency, ND Assistive, whose goal is to bridge the gap between ability and disability using assistive technology. Their technicians serve the entire state with demonstration centers in Fargo and Bismarck.
Assistive technology (AT) changes lives, but not just any assistive technology will do. Every user has unique needs and matching those needs to the available assistive technology is key. And making use of the technology devices a person already owns and uses well can produce an even better result.
Is there anything more frustrating than purchasing an item that does not do what you thought it would? Sadly, AT device purchases often end up in that frustrating category, and as a result are not valued or used. In an effort to help you select the right AT device, and save you time, money and patience, ND Assistive's consultants will discover the best fit between person, environment and device.
ND Assistive has a long history with ND Vision Services/School for the Blind. We share the goal of assisting people with low vision to live as independently as they can. We also both share information on high-tech devices as well as free applications that can be found on a person's own smartphone to improve people's lives.
Some applications distill an article down to a text-only version, then it can automatically read the article aloud. It is important to have the ability to customize the voice, speed, and tone. Other apps can allow a user to be auditorily cued to what is on the screen. The goal is to open the digital world to those with vision concerns.
Our consultants have helped clients learn how to text and email with friends and family. There are apps to listen to music and find interesting podcasts and news.  We can help find books in accessible formats. For organization and reminders, there are programs that provide a user-friendly interface to stay up to date and quickly set alarms and timers.
ND Assistive offers a program called, iCanConnect, which provides people with both significant vision and hearing loss with free equipment and training to help them stay connected with friends, family, and the world. Sending an email or chatting on the phone can be challenging for people with both significant vision and hearing loss. Equipment that iCanConnect can provide includes telephones, mobile phones, computers, screen readers, specialized software, braille displays, and other accessories.
It is important for people to know they can try AT to confirm it is the best equipment for their need. ND Assistive offers a free short-term equipment loan option to help determine the appropriate assistive technology before a purchasing decision is made. People can borrow assistive technology devices such as smart home devices (smart plugs), caregiver pager systems, medication reminder systems, voice amplifiers, magnifiers, etc. This program was established so people can:

•    Try assistive technology before they buy it
•    Compare assistive technology options
•    Temporarily replace a device that is being repaired
•    Provide a temporary accommodation
•    Learn about assistive technology available to them or their clients

 An inventory of equipment available for loan can be found on our ND AT4All website.
Roxanne Wells works at the Fargo ND Assistive office, and one of her passions is to help clients with a specialized telephone program, often referred to as TEDS. It's a program funded by state dollars that allows North Dakotans who are visually impaired or hearing-impaired access to telephones that will work for them at no cost.
Roxanne will receive calls and notes from people she works with. A recent note from Patricia, who lives in Fargo, said "Thank you for making my life whole again!" If you or someone you know struggles using the phone, Roxanne, or any of ND Assistive's AT Technicians are trained to help you find the right one for your needs. The process is easy, and often the phone is in your hands in no time at all.  
"The solution is so dependent on what a person wants or needs – corded, cordless, vision, amplified, big buttons. You name it, we can find it. And it's so fun to see the changes the right phone can make," Roxanne said.
To receive phones or other safety devices from our many programs, North Dakotans need to fill out an application. They can find them on ND Assistive's website at www.ndassistive.org or by emailing info@ndassistive.org. We also have a toll-free telephone number, (800) 895-4728.
At ND Assistive, our consultants have a passion to match the right AT to the solve a problem and allow that person to learn, play, work, and live a more independent life.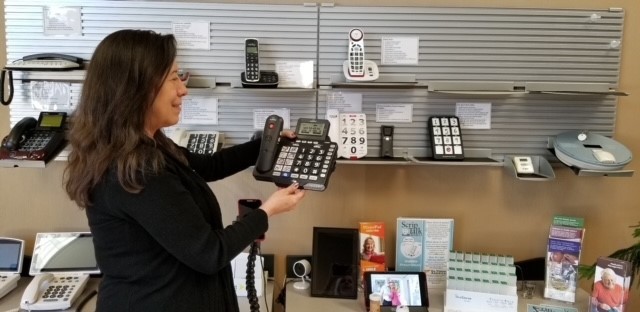 << All News