<< All News
Wednesday, May 3, 2023
Categories:
All News Items
Assistive Technology
Instruction
Library News
There are some exciting new tech devices on the horizon from the American Printing House for the Blind (APH). Read on to discover how APH is changing the way students who are blind or low vision read text, decipher graphics, and learn – today and into the future.


The Polly

The Polly is the newest tech device from APH. The Polly uses games to teach students uncontracted or contracted braille. Teachers can create their own lessons for students or use the online portal, Helios, to supplement their student's braille curriculum. The Polly weighs just over 2 pounds and is smaller than a laptop, making it ideal for little hands. The device is white and purple with black accents. Polly users can provide input using the standard 6-key braille keyboard, the world's first digital braille slate, or with the navigation keys. Output can be consumed via the two large braille cells, the standard 6-cell braille display, and the speakers. The Polly also vibrates to provide indicators. The Polly can connect to Wi-Fi and is also Bluetooth-enabled. It has two USB ports, an Ethernet port, a repeat button, and a volume control. A stylus is included to be used with the digital slate.

While the Polly does work without being connected to the Internet, it is recommended that it is connected to a Helios account to use it to its full potential. The Helios website includes lessons that reinforce spelling and vocabulary through short stories and games. A student's progress through the lessons will only be saved if you are logged in to a Helios account. Instructions to set up an account can be found in the Quick Start Guide that comes with the Polly (or found on the APH website). By setting up an account, teachers can also view performance and usage reports, manage instruction, and assign homework. More than one learner can be attached to each Polly device and more than one Polly device can be attached to each Helios teacher account.

Two songs by Jack Hartmann, "The Braille Alphabet" and "Braille Alphabetic Word Signs" are also included in the Polly and can be used to reinforce braille word signs. 

The Polly does not have a battery, which means it must be plugged into the wall outlet when in use. 

If you would like to try the Polly with your student or child, reach out to Lilly Mankie (lmankie@nd.gov) or Emily Stenberg Brown (estenber@nd.gov) to request to borrow one from NDVS/SB. Or, you can purchase one from aph.org. 
The new MATT Connect

One of APH's most popular tech devices, the MATT Connect, has now been updated. V2.1 comes with an upgraded Android 12 tablet, which, according to the APH website, has "faster boot times, runs the latest apps, and more." If you already have a MATT Connect, you do not have to order an entirely new device. Instead, you can just order a replacement tablet. 

The MATT Connect is a magnifier, distance viewer, and educational tablet in one. If you have one of the first-generation MATT Connects, it will continue to be supported by HumanWare and APH for the next 5 years.

MATT Connects are well-loved because they are offer three different user interfaces:

1.    Basic – used with beginning assistive tech users as a basic video magnifier for distance viewing.
2.    Standard – basic features plus the ability to capture images, access the gallery, and enable OCR reading.
3.    Advanced – includes standard features plus the use of the Android tablet.

The upgraded MATT Connect is sure to meet the needs of many students with low vision in a variety of classroom settings and learning environments. You can borrow one from NDVS/SB by contacting Lilly (lmankie@nd.gov) or Emily (estenber@nd.gov).
Coming Soon! The Monarch

The Monarch, which is being developed by APH with the support of HumanWare and the National Federation of the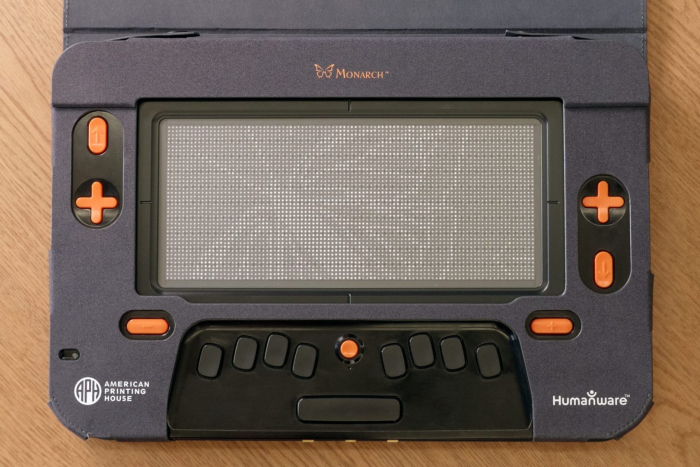 Blind, will revolutionize the way textbooks are consumed by students who are braille readers as this device can directly receive digital files from APH and other textbook providers. That means no more waiting for braille textbooks to be embossed, and students will not have to lug around multiple volumes of a braille textbook and separate graphics anymore. The Monarch's size will allow it to be easily transported, as it weighs about 4.5 pounds and is about the size of a gaming laptop. It has a 10 line by 32 braille cell refreshable braille display which will allow both braille text and tactile graphics to be displayed. It will be able to hold all the textbooks and other materials a student needs for classes, and its creation is so revolutionary that it has also sparked the need for a brand new type of file, the eBRF.

eBRF 

You may know that BRF is the name of the main braille file type. So what is eBRF? It's still being developed by APH and many other stakeholders, but it will be a braille file standard that will meet the needs of anyone who is using a device with a single or a multi-line braille display, or using an embosser. It will be able to display text and graphics and will be dynamic enough to support how tactile graphics may be done in the future. By using an eBRF, a person will be able to zoom in to a portion of a graphic, access audio that may be embedded, determine different textures, and access many other potential features of the file. The Monarch will be one of the first devices to support eBRF. Stay tuned for a release date!
<< All News