<< All News
Sunday, April 3, 2022
Categories:
All News Items
News Event
Student Programming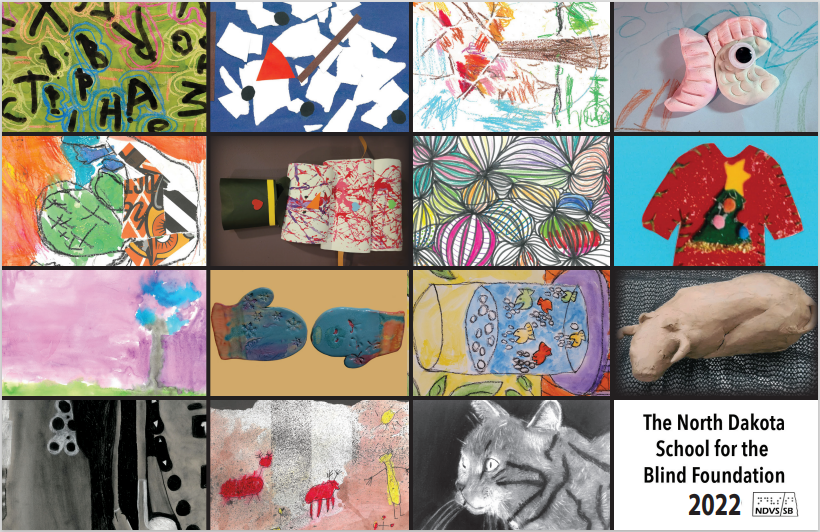 Since 2006, the NDSB Foundation has sponsored a card contest to raise funds and awareness for its mission and programs. NDSB Foundation President Julie Anderson came up with the idea for the card contest, which is held every other year. "I was listening to a presentation during a Sunday school meeting," Julie explains. "A company was telling us about how children from a Christian school were creating cards to sell for Christmas. I brought up the idea for an art contest for students in the state of North Dakota who are blind or visually impaired. I thought we could combine it with a medal ceremony, a speaker, and a meal, and get families together to get to know each other. Soon the card contest turned into so much more, and we began combining the awards ceremony with NDVS/SB's Family Weekend."
This year, a new set of student artists are being honored at a luncheon during NDVS/SB's Family Weekend on April 23. At the ceremony, 15 student winners will be presented with a medal, a certificate, and a couple of cards with their own artwork on them. Their whole family is invited to attend, and Julie says this can be "a very special moment and memory not only for the child, but the extended family as well." She has witnessed many memorable moments during the ceremonies, and others have expressed their own appreciation for the contest with her. She explains, "I received a note from a former TSVI stating that she watched a parent cradle the medal her daughter won, and tear up, and the parent and child shared a special moment. I have also been pulled aside by grandparents who are so proud and can't thank the Foundation enough for this wonderful contest." 
Seventeen-year-old Kaylyn MacIver, whose vision loss was caused by retinopathy of prematurity, is one of the winners of the card contest this year. She created her artwork a couple of years ago in art class when she was a ninth grader at Central High School in Minot. Kaylyn explained that she turned the colors of an object to black and white for her work, and the card can be used to send greetings for all sorts of reasons, from birthdays to get well wishes. 
Packs of the 15 cards can be purchased for $20 during Family Weekend. They can also be purchased after the event from Foundation members or bookkeeper Lilly Mankie (lmankie@nd.gov or 701-795-2732).
North Dakota students ages 3 – 21 who are blind or visually impaired are eligible to enter original art into the contest in any form. Julie explains, "We have had students draw, paint, use markers, take photographs, sculpt, create collages of textures, and so much more." The art can be created at home, school, or at NDVS/SB, and does not have to be new. Students can submit any piece of art they created that hasn't previously been selected for the card contest. The deadline to submit art is in February, with judging taking place shortly after the submission deadline. About twenty judges are brought in to look at the artwork and decide which ones would be best to put on a card. Julie, who is a TSVI for Fargo Public Schools, has encouraged her own students to enter the contest. "I talk with my students about what they would like to create. They often have many ideas ranging from cartoon characters, to dots on a page, to flowers. I have them think about the people who will buy the card, and why that person might be sending a card to someone. It helps them think about which idea might be best for them to make into a piece of artwork for the contest."
Judges include Foundation members, former vision teachers, and others who have no connection to the vision field. Student names are covered during the judging process, so judges have no way of knowing who created which piece of art. Winners are announced in early spring, in time for photographs of the artwork to be taken and printed on cards and for winners to be notified and register for Family Weekend, where they are honored during the special ceremony, which is emceed by Julie. During the ceremony, Julie invites the winners to talk about their art, and she loves what comes out of their mouths. "Art is another way for creative expression, and it is wonderful to hear why they made what they made," she says. Kaylyn agrees. "Art helps express what you are feeling and who you are," she says. No matter what you can see. 
 
<< All News