<< All News
Friday, April 30, 2021 - 08:00 am
Categories:
All News Items
Adult Programming News
Assistive Technology
Spotlight
Student Programming
Meet Tracy Wicken
Assistive Technology Specialist
Tech Expert, Lifelong Learner, Human & Dog Mother, Motorcyclist
Tracy Wicken is the Assistive Technology Specialist at NDVS/SB. In that role, she works with students and adult clients on learning how to use and master any assistive technology that will help them at home, school, or work.
Tracy, who grew up in Grand Forks, knew she wanted to be a special education teacher who specialized in one area. Because the School for the Blind was located in her hometown, where she wanted to stay, it was an easy choice to choose the vision field. For 36 years, individuals with vision loss throughout North Dakota have benefited from her tech and teaching expertise – for 20 years at Vocational Rehabilitation and for the last 16 years at NDVS/SB.
Tracy received Bachelor of Arts degrees in Elementary and Special Education with Certification as a Teacher of the Visually Impaired, as well as a master's degree in Special Education - Learning Disabilities from UND. She also has a master's degree in Rehabilitation of the Blind from the University of Arkansas at Little Rock and a master's program certification as a Low Vision Therapist from the Pennsylvania College of Optometry at Salus University.
Tell us a bit about yourself.
I feel very blessed to have a terrific family, great friends, and colleagues that are, to me, like friends and family. I have been married to my husband, Greg, for almost 36 years. We have two adult sons, Grant (32) and Tyler (27), a daughter-in-law, Sarah, and three grandsons, Cooper (9), Christian (9) and Deklyn (19 months). I also have a dog, Oreo (4). I like to go to the lake in the summer. I am active in my church playing handbells and singing in the choir. I have belonged to a Homemaker's Club for 36 years. I also own a motorcycle.
What do you like about your job at NDVS/SB?
I like that it is changing all the time, that it is challenging, and that I am learning all the time.
I also feel very happy to know I have helped someone with something they didn't think that they could do otherwise. In the last few years, I have really enjoyed teaching students and adults how to use their smartphones and tablets. I also really like working with seniors. They are so gracious and make me feel like I really made a difference in their life because of what they learned from me.
You travel all over North Dakota to teach assistive technology to students and adult clients. What types of services do you offer as an outreach provider?
I can go to a person's school, place of employment or home to help them with any assistive technology need that they have. I can see them on a regular basis face-to-face until they are comfortable with that technology without my support. I can also meet with clients virtually.
What is something that may surprise people to learn about NDVS/SB?
I wonder if people know that we have a staff of 27 people – outreach teachers, vision rehab specialists, vision outreach specialists, maintenance workers, administrative staff, a braillist, and a librarian. We have staff who are based in Fargo, Jamestown, Bismarck, and Minot – not just at the main building in Grand Forks. Also, we work with anyone who has a vision concern, from infancy to end of age. We are ND Vision Services.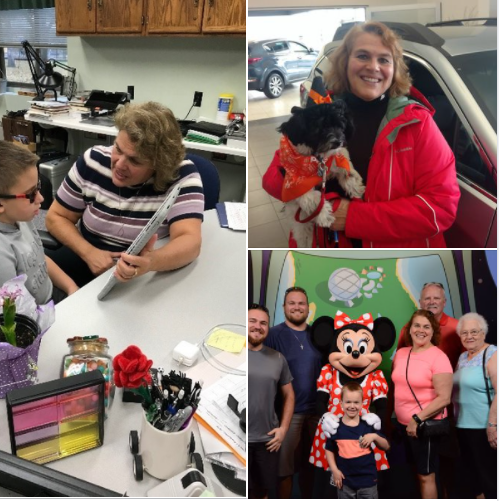 << All News