<< All News
Friday, February 25, 2022 - 11:00pm
Categories:
All News Items
Adult Programming News
Instruction
Spotlight
Student Programming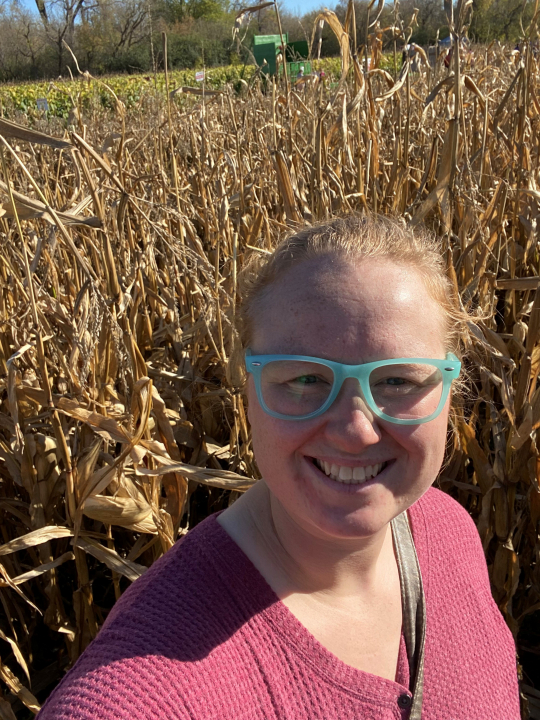 NDVS/SB Psych Extern
Doctoral Student, Roller Derby Girl, Soon-to-be-missed 
(and soon-to-be-married)
One of the hidden secrets of NDVS/SB is our partnership with UND's psychology department. For 20 years, NDVS/SB's clients, students, and staff have benefitted from the placement of an extern from UND's doctoral psychology program. Working under the supervision of UND professor Dr. Joseph Miller and NDVS/SB's student program coordinator, the psychology extern has provided counseling services to clients of all ages, as well as social skills curriculum and psychoeducational testing to students. This spring, Sky Gabel will become the final psychology extern to serve NDVS/SB. As she prepares to leave NDVS/SB and UND, Sky reflected on her time in Grand Forks and shared her plans for the future. 

Tell us about yourself. 
Hello, I'm Sky Gabel, soon to be Sky Overbo. I was born in Fairbanks, AK, and lived in Nikiski, AK, until I was ten. Over the following years I lived in several different states including Wyoming, Missouri, Texas, Oklahoma, Montana, and now North Dakota. I am a graduate student in clinical psychology, just one internship away from earning my doctorate. In undergrad, I was a collegiate athlete, and now I am an active member of Grand Forks's roller derby team, the Sugar Beaters. Some fun facts: I played football in 7th grade. I am engaged to my soulmate. I adopted a wonderful dog named Tilly. My favorite food is called Poppyseed Bufta, which is a traditional Czech food we have for our family holidays.  

How did you end up at NDVS/SB? What is your role here?
My supervisor, Dr. Miller, has worked with NDVS/SB for years and has a visual impairment himself. I found myself needing an additional practicum experience and asked if this was available. I have loved working here and having these wonderful experiences, and I ended up staying way past the initially suggested end date. I started in the fall of 2019 and didn't think I'd stay more than one year.

I've been a part of several programs including the We Care Wednesday Coffee Chat with NDAB, and I created a weekly virtual support groups for adults. I work during programming weeks with the students, teaching them social skills and/or processing changes related to vision loss, social support, self-advocacy, and communication skills. I am also really involved in individual therapy as needed.  

What have you learned from your 3 years here? 
When I first started here, my major concern was making a social faux pas and messing up. I had never worked with anyone who had a visual impairment and wasn't sure of all the terminology. I was excited for the learning opportunity but terrified of hurting someone's feelings on accident. But I've learned that there's a lot of incorrect preconceived notions about visual impairment. I've learned of the many unique struggles that are overlooked when discussing VI, including the ongoing grieving that can occur. I also came to realize the isolation that can come with a VI is one of the biggest emotional struggles for the people we serve. 

What are your future plans?
This next year I'll be going on internship. I am hoping I will get to stay in ND working at the Fargo VA, but I could end up in Oklahoma, Ohio, or Illinois. I hope my partner and I can make things work so he gets to come too! I am planning on having a wedding when I finally graduate, and eventually we'd like a kid. But that's far into the future. When I graduate, I am hoping to find a job in either a university counseling center or a community mental health center. I hope to have a job that I feel accomplished in and that I am helping people like I always wanted. I want my family to be happy and healthy most of the time, and when times are tough, I want us to come together like we always do to handle life's biggest problems.  

Is there anything else you would like to share? 
I truly enjoyed everything I have learned while here. Not only the factual and educational things but also the self-knowledge that I've gained. Ken lovingly called out mistakes a few times that I am very grateful for. This changed how I was going about and/or wording things, and I really think it made a difference in how effective I was. I am thankful I had Cindy by my side through all the kids' programming weeks and being so accommodating and forgiving. I am grateful for Amy and Emily for teaching me so many new things about NDVS/SB and what accommodations are available for the students. I am so sad I'll be leaving this year, but I hope to stay in touch. I am going to miss the kids and getting to watch them grow into wonderful adults.  
<< All News