<< All News
Sunday, November 13, 2022 - 11:00pm
Categories:
NDVS/SB APH Coordinator/ Administrative Assistant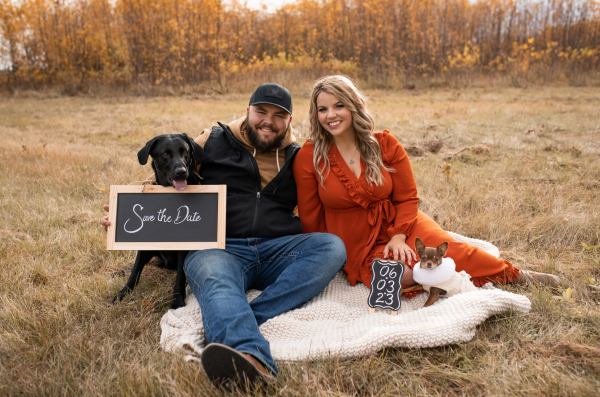 Bride-to-be, Barrel Racer, Braille Buzz Enthusiast
Lilly Mankie's job description at NDVS/SB keeps getting longer. "Since starting at NDVS/SB, I have taken on more and more tasks and am always staying busy," Lilly says. "Busy" is an understatement. Since starting at NDVS/SB in December of 2018, Lilly's role has grown as she has helped NDVS/SB grow. She has helped implement a new database system and an app that records providers' statistics, and she has simplified the ordering process for American Printing House for the Blind (APH) products, all of which has made her colleagues' lives easier, and her work a bit more complicated. Lilly doesn't seem to mind, however. "I know that my administrative jobs are very important and keep this place running smoothly," she says. "I also like my coworkers, so that helps!" 

What is your educational background? 
I have an A.S. Degree in Business and a Supervisory Leadership Certificate through Northland Community & Technical College in East Grand Forks, MN.

How did you end up at NDVS/SB?
I was unhappy at my previous job and decided I needed to find a job that I truly loved and was passionate about. I applied to NDVS/SB, praying I would get the job, and I am so grateful for this opportunity. I love working here and appreciate a workplace where I am valued and have a purpose.
 
What is your role at NDVS/SB? 
As the APH Coordinator/Administrative Assistant, I maintain databases, loan agreements, and physical inventory of fixed assets. I design special projects such as handbooks, brochures, books, biennial reports, display boards, and more. I handle the ordering of APH products and help update the APH Census every year. I am a part of the Wellness, Christmas in the Park, Family Weekend, Public Awareness, and Records Management teams. And I will do whatever else I can to help others and take on any other fun projects I can get my hands on!

What's your favorite APH product?
APH has so many amazing products. I would 
have to say my favorite product is the Braille Buzz. For starters, the looks of it are adorable. It resembles a cartoon bee with smooth and textured stripes. It is a great device to help young students learn braille in a fun and easy way. 

Is there anything you think people would be surprised to learn about NDVS/SB? 
A fun fact is that when I was around 5 or 6 years old, my mom worked upstairs in the NDVS/SB building. The agency she worked for rented out part of the second floor. I remember playing in the library for hours while I waited for my mom. I also heard about the "ghost" that lived in the building, so needless to say, I was terrified to go anywhere alone. Now that I am older, I have gotten over the fear of the ghost. I think it's a friendly one! 

Tell us about your life outside of work. 
Zach and I are getting married June 3, 2023. We are extremely excited and have been together for over 5 years. For hobbies I, barrel race my horse Breezy and am in the process of training my other horse, Opal, for barrel racing. I also give horse-riding lessons and love being able to bring horses into people's lives. Zach and I started our own little side business called LZ Creations. We make and sell personalized vinyl, decal, and iron-on decor and more. My favorite thing to do is hang out with my dogs Rue and Marvin, as well as spending time with family and friends. 

Is there anything else you want people to know?
I am the bookkeeper for the NDSB Foundation. I am very helpful and friendly. If you ever need help, don't be afraid to ask. 
<< All News