<< All News
Tuesday, December 13, 2022 - 11:00pm
Categories:
NDVS/SB Assistive Technology Specialist
Smart Phone Enthusiast, Gardener, Vikings Fan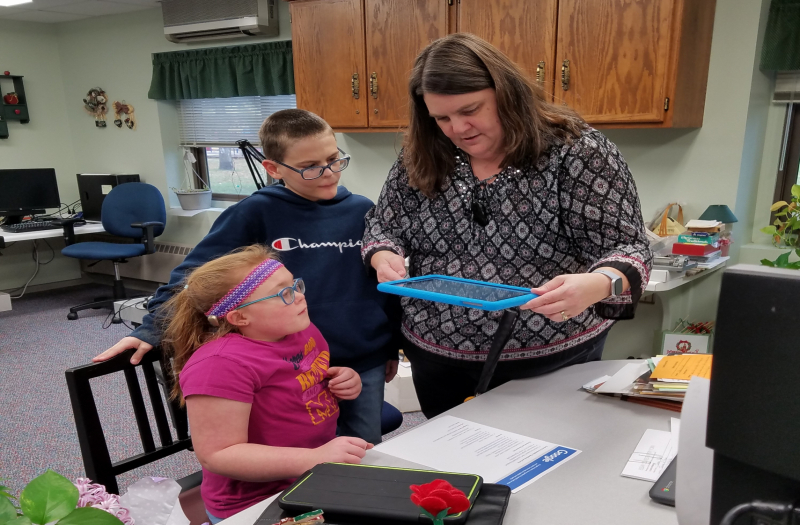 One of the many perks of working for NDVS/SB is that staff are encouraged to cross-train, continue learning, and even move into new roles if opportunities arise. "One of our best sources for filling key roles has been from within," explains Superintendent Paul Olson. Assistive Technology Specialist Laurie Westling is one employee whose job looks very different today than it did when she was hired 17 years ago. 

Laurie was originally hired as an administrative assistant. "I primarily worked with the database, entering services and stats reported by instructional staff and assisting our network administrator who was blind," she explains. "Over the years I learned a lot about assistive technology and how it helps so many people every day. When our network administrator retired, I knew my role would change because I wouldn't need to be a visual assistant any longer. I was then given the opportunity to work alongside our other assistive technology staff to learn about many types of assistive technology and start working with students and adults."  

It's been a perfect fit for Laurie and for NDVS/SB. Paul Olson isn't surprised. "When there are talented people that are eager to grow and take on new responsibilities, we encourage them to build new skills and fill new roles. Who better to take on the important work that we do than someone who already is dedicated and knows our mission? More often than not, this has been a huge benefit to our agency and the people we serve," he says. Read on to learn more about Laurie.

What is your educational background?
My undergraduate degree is a Bachelor of Business Administration with a major in information management from the University of North Dakota.

How did you end up at NDVS/SB?
Sometimes getting where you are supposed to be happens for a reason and all the pieces fall together. I wasn't unhappy with my previous job, but I was looking for something with room to grow. One day my sister sent me the job listing at NDVS/SB and as soon as I read it, I knew that was where I was supposed to be. I am now in my seventeenth year at NDVS/SB.
What is your role at NDVS/SB? 
I work in our technology department as an Assistive Technology Specialist, working with both students and adults. I instruct in the use of 
Assistive Technology. There is so much technology that one day I might help someone use their smart phone or computer and the next demonstrate how to use a video magnifier to enlarge text.

What keeps you excited about your job? 
I think the thing that excites me most about my job is being able to help people. To work with a client that has recently lost vision and show them the possibilities of using a smart phone, computer, or other devices to read text or organize their home, and show them that they can still do so much. Giving someone hope for the future is something amazing we do here.

What's your favorite assistive tech product?
My favorite assistive technology is the smart phone. The smart phone can be used by anyone and comes with built-in accessibility. There are apps for so many things. Who knew that you could have one app for scanning text, identifying currency, scanning barcodes, and much more.  

Is there anything you think people would be surprised to know or learn about NDVS/SB? 
I think people might be surprised to know that NDVS/SB is a demonstration center for assistive technology. We have equipment on hand for individuals to try and even borrow for a short time. Assistive technology is quite expensive, and we can help individuals try equipment to see if it will be a good fit before making a purchase.
Tell us about your life outside of work. 
My husband Lee and I have been married for 14 years. We have an 8-year-old son named Eli.  We enjoy camping and fishing in the summer.  We have a garden and enjoy canning and freezing our harvest. We love watching the Vikings and try to go to a game each season.

Is there anything else you want people to know?
If you have an assistive technology question, I am only a phone call away.  

Contact Laurie at 701-795-2710 or lchaput@nd.gov. 
 
<< All News