<< All News
Friday, June 24, 2022
Categories:
All News Items
Adult Programming News
Spotlight
Vision Outreach Specialist
Instructor, Mother, Motivator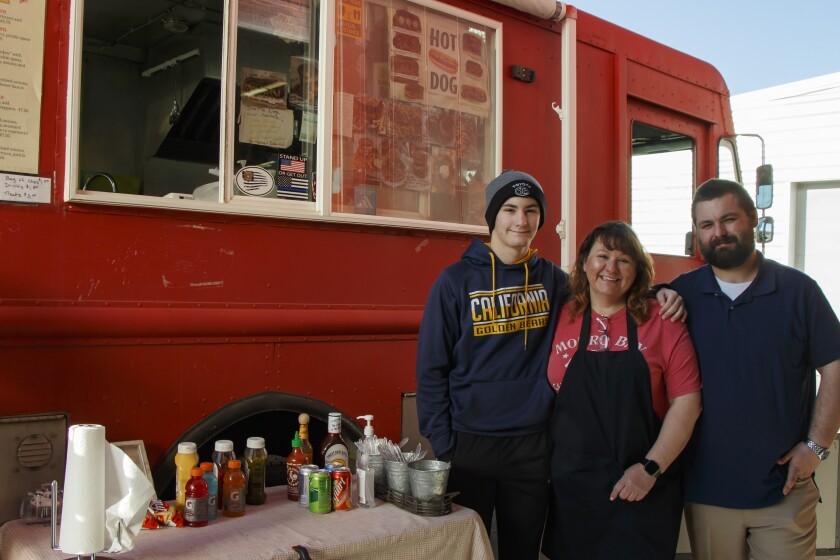 Not many Vision Outreach Specialists can list "Food Truck Owner" on their resume. But NDVS/SB's newest employee, Kristina Brown, can. Two years ago, she and her two sons, Cameron (28) and Alec (17), opened the Dog Gone Good Food Truck in Dickinson, ND. "We served amazing food, including a specialty cheeseburger called the West Coast Burger, and strived to serve food that just wasn't available in Dickinson at that time. And we succeeded!" Kristina says. But the food truck was more of a family project than a business venture, so when she was given the opportunity to get back into the vision world and work at NDVS/SB, she put down the burgers and went back to braille. 
Kristina, who grew up in California but moved to North Dakota for a job with Vocational Rehabilitation ten years ago, is motivated by what her colleagues in the vision world do, and how they – and she – can help clients live a more independent life. "It's the overall growth that rewards me. I believe my job is to work myself out of a job with individuals, so they don't need me anymore. That is truly fulfilling to me," she says.
How did you end up at NDVS/SB?
I moved from California to North Dakota in 2012 to become a Vision Rehabilitation Specialist for Voc Rehab under the direction of my Regional Administrator, Kari Shae. She introduced me to NDVS/SB and encouraged me to use the staff there as a resource to improve my skills and abilities to serve the visually impaired better with every chance I had. I attended program weeks at NDVS/SB and vision forums NDVS/SB held across the state, and absolutely enjoyed everyone I met there. I made it a personal goal to work at NDVS/SB someday because of my interactions with Paul, Margo, Amy, Ken, Tracy, Mary, Gary, Leslie, and more. After ten years of waiting, hoping, and praying, a position opened up this spring, and it just seemed like the right position and timing for me. I applied, was hired, and am oh-so-happy with each day that passes. 
What is your role at NDVS/SB?
My role is Vision Outreach in the western half of the state. There is need in the west to have more vision services available, and I was hired to help fill in those gaps. I support several specialists, including Margo with O&M, Amy with her adult clients, and Erika and Mary with their students. I will offer support to anyone, anytime, when someone is stretched just a bit too far, and I hope to begin filling my schedule with more as time passes and needs arise. 

I enjoy being able to offer basic O&M instruction, and other services in daily living and braille skills. I feel like I have a grasp of the needs here in the west. I enjoy reaching out to the community to learn where the need is. I feel like it's about to begin to pay off as people learn that I am here for them.  
What is your educational background?
I have a BA in communicative sciences & disorders and have completed graduate studies in speech language pathology from CSU, Fresno. I am nine credits units shy of that degree due to financial constraints while raising children on my own. I also have my vision rehabilitation graduate certificate from Mississippi State University. 
While I was working at Voc Rehab, I completed coursework in career exploration for people with disabilities. It encompassed workforce development, enhancing the counselor/client relationships, and navigating and utilizing comprehensive online labor market information systems. I also completed coursework regarding working with employers and learning what their attitudes were towards working with persons who are blind and visually impaired. I learned to work with businesses to improve employment outcomes, both with potential employees and their vocational counselors. I also obtained my certification to lead fall prevention workshops for people ages 50 and up. 
How did you end up in the vision world?
During my time in graduate school for speech pathology at Fresno State, I began working for our local school district as a paraeducator for students with visual impairments. I was under the direction of two absolutely fabulous and passionate TVIs & O&M Specialists who each taught me something new every day. I fell in love with the field. When I had to drop out of my graduate degree program for family and financial reasons, I figured it was a sign from above, and I redirected my attention to pursue the vision field instead of returning to speech pathology. I've never regretted it and never looked back, and I've have been happier ever since. 
Tell us about your life outside of work.
My boys are my life! My sons Cameron and Alec have both had special health concerns throughout their lives and have had to learn to overcome adversity. Whenever they have said, "Mom, I can't do that…"  I have always finished their sentences with "yet…" and we brainstorm how to make things happen for them. I'll do just about anything to ensure their health and happiness. I continue to research Dysautonomia and POTS for my youngest so that we may find a way for him to have a better life. 
Anything else you want people to know?
I am looking forward to working with all of the amazing people here at NDVS/SB for many years. I pray that we can build solid relationships. I am motivated to acquire more skills daily to directly impact as many individuals in North Dakota as I can. 
<< All News