<< All News
Tuesday, September 28, 2021
Categories:
All News Items
Instruction
Spotlight
Student Programming
Regional Coordinator, Region 3
TVI, Team Player, Long-Haul Driver, Grandma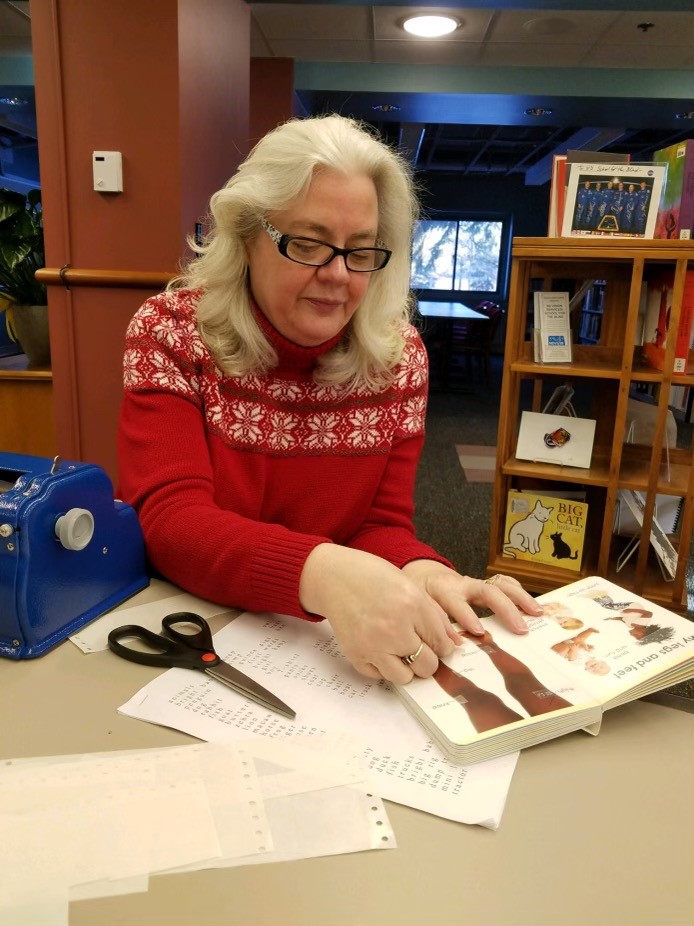 158,760. That is the number of miles that Kathy Grzadzielewski has driven over the 11 years she has worked for North Dakota Vision Services/School for the Blind. As a Regional Coordinator, Kathy serves the children aged birth to 21 in Region 3, the north-central area of the state, which includes the counties of Benson, Cavalier, Eddy, Foster, Nelson, Pierce, Ramsey, Rolette, Sheridan, Towner, and Wells. 

If you see her driving down the highway, she may be on her way to a child's home, a student's school, or another agency to serve a client. She may be traveling to assess the functional vision of a baby, to provide recommendations to schools to ensure a student has access to educational material, or to train other educators on how to adapt materials to make a classroom more conducive for learning. During short-term program weeks, Kathy drives to Grand Forks to assist with the classes and activities that are happening there. "This allows me to observe some of my students in a different setting and gives me a better understanding of the skills they have that we can build on." 

Kathy also sometimes just picks up the phone and lends an ear. "All parents want the best for their child, and parents need to be a strong advocate for their child with a visual impairment. As they learn about their child's visual impairment, there may be struggles along the way when teaching their child skills to become more independent." Whether she's driving or not, Kathy has made a difference in the lives of her students and colleagues over the years, and they in turn have had a big impact on hers. "I love the people I work with inside and outside of NDVS/SB, and every day seems to be a journey."

Why did you decide to become a TVI and/or go into the vision field?
Around the 4th grade, we were introduced to Helen Keller and Anne Sullivan. I was fascinated with Helen Keller and would study braille and ASL signs for the alphabet. I read a lot about Helen Keller when I was growing up and of course loved the movie The Miracle Worker.

What is your favorite thing about your job?
It would have to be meeting and working with families. I love assisting parents any way I can. I also like meeting teachers and paraeducators to present ideas that could assist the child in his or her learning environment. Working with team members is very rewarding as we come up with ideas to resolve issues or barriers a child may be experiencing. Every child is unique in their own way and providing individualized recommendations can make a difference for that child's learning opportunities.

What keeps you excited about your job?
Smiling little faces, and watching every child grow to become more independent. It's fun when you have been involved with a child from when they were in diapers to middle and high school. Just the other day, I walked into a classroom and the 6th grader was so glad to see me. I was greeted with her enduring smile and giggles. Meeting new students and getting to know their personalities is fun and I really enjoy getting text messages with pictures attached of students achieving a goal whether it be big or small. Sometimes what some consider little things are big steps for others. 

Tell us about your life outside of work.
I have a wonderful, supportive husband who did whatever he could to assist me through my secondary education. We had three young daughters when I was going through the master's program, and a lot of the parenting fell on him for two years. I have three grown daughters who have or will have a baby in 2021! I have six grandchildren to date: three grandsons and three granddaughters, so the tie breaker will come in December. Three of my grandchildren are close enough to see and spoil often. I spent a lot of time with my 4-month-old granddaughter this summer which was a joy. I also have a 90-year-old mom who needs my support to continue to stay in her home as long as she can. And I can't forget our 14-year-old cat that rules our home now. She will be our last pet.

Is there anything else you want to people to know?
If you are thinking about becoming a teacher, consider becoming a TVI! It is a very rewarding and educational career!
<< All News