<< All News
Wednesday, April 27, 2022
Categories:
All News Items
Spotlight
Student Programming
NDVS/SB Student Program Coordinator
TVI, Student Advocate, Collaborator, Cat Person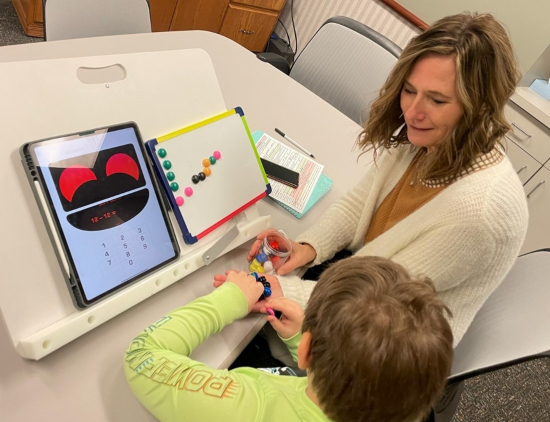 When Cindy Williams is asked how she became the Coordinator of Student Programs at NDVS/SB, she claims, "the stars aligned." And like the stars in the sky, her path was not straight. While she knew from a young age that she wanted to be a teacher, she attended a business college after high school. She ended up in Grand Forks after her husband accepted a position here and found a job as secretary at NDVS/SB. "After working for a little over a year and seeing what the teachers' roles were, I decided I had to pursue my dream and educational degree. That was my first step," she says. 
While attending UND for her elementary education degree, she continued working at NDVS/SB as a houseparent. Then, she became the Evening Activities Coordinator, a position that oversees the houseparents and plans recreational activities for the students attending in-house programs. As she neared the completion of her master's degree as a Teacher of the Visually Impaired, she was hired as the Outreach Teacher serving the Devils Lake region. A few years later, the Outreach Teacher position serving the Grand Forks region opened up, and she was able to work closer to home. Since 2018, Cindy has been the Coordinator of Student Programs. "Looking back on my career thus far, I am thankful for every position I have held as I have learned so much, and each one has contributed knowledge and experience which I use in my current role," Cindy says. Read on to learn more about how her knowledge and experiences have turned into opportunities for the students she serves.
What is your role at NDVS/SB?
I am currently the Coordinator of Student Programs. This role encompasses many different aspects, but in general, I promote awareness of our student programs through communication with potential attendees and referral sources including our Regional Coordinators, public school TVIs, special education teachers, and case managers. I also develop the program (such as arrange for speakers and related activities), make the schedules, and assign personnel specific tasks and responsibilities which includes informing staff of ECC instruction requests so instructors can develop their lessons. I also work with our houseparents (evening and overnight staff) to develop lessons in recreation and leisure for our students in the evening. At the end of a program week, I coordinate the submission and dissemination of reports. 
I also supervise our UND Psychology Extern and collaborate with them to provide a social skills curriculum during short term programs and to provide psychoeducational testing to our students.
Finally, I travel with outreach staff upon request to conduct FVEs, LMAs, and various in-services and lessons.
Explain what the ECC is and how those skills are incorporated into program weeks and taught in the home and school. 
Our programs feature training sessions in the Expanded Core Curriculum or ECC. The ECC is a specialized set of nine skills for students who are blind or visually impaired. These skills provide the opportunity for a student to learn how to live an independent, fulfilled life and bridge the gap between academics and life skills. They include the following: 
•    Compensatory Skills (learning medium and access; communication; organization)
•    Orientation and Mobility (knowing where you are in space and movement in environment)
•    Social Skills (active and appropriate participation in social situations)
•    Daily Living Skills/Independent Living (skills needed to care for oneself independently) 
•    Recreation and Leisure (skills to promote the enjoyment of leisure activities)
•    Sensory Efficiency (skills to use all senses)
•    Assistive Technology (skills to use high- and low-tech devices) 
•    Career Education (skills in exploration of career options and the world of work)
•    Self-Determination (skills to become effective advocates for themselves)
Training in the ECC is carried over in the home and in the school through every day and incidental learning. However, if a student never learns adaptive ways to do something such as using a microwave when they can't see the keypad or what technology is out there to efficiently do their schoolwork, they won't be able to carry out their abilities. As I often say, "they won't know what they don't know" and attending our STPs will assist them in gaining that knowledge and ability.
Why is it important for students to attend STP weeks if they have a TVI at their public school or are receiving Outreach services from our staff?
A benefit of students attending our STPs is the focus we have on the ECC. TVIs may not often have the time to work on areas of the ECC as they are so busy with the academic aspect of learning in the public school. NDVS/SB also has personnel who specialize in certain areas of the ECC and have access to a plethora of equipment/adaptations that a student can try out while they are here. 
Another big component of attending our programs is learning from and socializing with other individuals who also have a visual impairment. Students can learn from role models and relate to peers who are going through a similar situation as they are. I often hear the excitement of students when they hear someone has the same visual condition as them. At their local school, they may be the only student with a visual impairment. 
Tell us about your life outside of work.
I was born and raised in Rugby, ND, and have lived in various places including Tucson, Arizona; Winnipeg, MB; and International Falls, MN, before settling in Grand Forks in 2002 when my husband, Craig, accepted a position here. We have two children: our oldest, Tyler, is a young adult pursuing his dream of working in the golf industry. Our youngest, Sophia, is in the 10th grade and keeps Craig and me busy with all her activities. Our family enjoys our pets: Winnie, our Shih Tzu, and two cats, Misty and Purcy. When there is time to spare, I enjoy long walks and hiking (I love nature), reading, gardening, and attending sporting events and concerts. Music is a big part of my life and I often prefer to listen to music rather than watch TV. A quote that brings a smile to my face is, "There are two means of refuge from the miseries of life: music and cats" by Albert Schweitzer. I would not want to be without music or a cat to greet me. 
Is there anything else you want people to know?
Quotes often inspire me and give me a perspective on life and the world. One of my favorites is, of course, from Helen Keller and it states, "Your success and happiness lie in you." I revert to this quote often. I have a sign of it hanging in my dining room and have it on my cell phone lock screen. 
My closing thought is to our students. I hope you can find happiness and peace within yourselves to be content with who you are. I also hope that NDVS/SB and I can contribute to that contentment through our STPs.
 
<< All News