<< All News
Friday, July 30, 2021
Categories:
All News Items
Adult Programming News
Assistive Technology
News Event
Spotlight
Much to her surprise, Vision Rehabilitation Specialist Amy Osvold has become something of a YouTube star. Over the last few years, she has created over 20 Golden Guide videos, which are instructional videos on NDVS/SB's YouTube Channel that explain, step-by-step, how to perform certain tasks with low vision or blindness. "I decided to create some Golden Guide videos because of conversations I had with my clients," Amy explained. "We would be talking about a skill; I would show them the skill but needed a way to reinforce the skill when I wasn't there. With the videos, I can send them to the client, their spouse, family, or friends to help support when I am not there. This is paramount when you cover large areas like we do at NDVS/SB."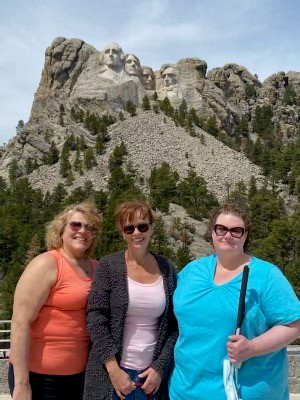 But it's not only Amy's clients who are watching her videos. Other states' agencies have complimented her videos and requested additional videos on specific topics. Amy was recently featured on author Hannah Fairbairn's blog, When You Can't Believe Your Eyes, and in the braille magazine Our Special.  Jasper Ridge, the company that sells the LuxIQ, uses her instructional videos on the device in their trainings. And a low vision clinic in New Zealand has reached out to her with questions after watching one of her videos. "Unfortunately, they didn't need me to come there in person to help them," Amy joked. 
Lucky for us, she is right here in North Dakota, where clients like Christina Powell appreciate her positive attitude and creative solutions. "Amy is always upbeat and is easy to talk to. She has good ideas on how to do things. It's nice to work on these things in my home, in my own environment, where we know right away if something will work or not."
What is your role at NDVS/SB?
I am a Vision Rehabilitation Specialist covering western ND. I assist people in their homes and communities. 
I also go to NDVS/SB in Grand Forks during adult week programs to teach lessons on the iPhone, recreation and leisure activities, and braille. When I am helping someone in their home, I am more of a jack-of-all-trades. The only lessons I do not teach in a person's home are Orientation & Mobility and some Technology skills. When those lessons are needed, O&M Specialist Margo Lentz or Assistive Tech Specialist Tracy Wicken will travel to the home to help those clients.
What is your educational background? 
I have a bachelor's in social work from Augsburg University. I also completed the Education of the Blind and Visually Impaired coursework at UND. I am currently working on a master's in social work in a virtual program through Florida State University, which I plan to complete by May 2023.
Why did you decide to go into the vision field?
I began losing my vision at the age of 5. I met my first TVI when I was 8. She was so kind and helpful. I knew I was meant to be in this field. Working in the field of vision has given my vision loss a purpose. 
What is something that may surprise people to learn about NDVS/SB? 
One thing that may surprise people is that we are not a one-and-done type of service model. We do not "close" cases. I am unaware of any agencies that will follow a person throughout their entire vision loss journey. The training a person may need at 20 when their visual acuity is 20/200 is very different than the training they may need at 40 when their acuity is 20/600. We are able to meet these needs. 
What is your life like outside of work?
I have been married to Brian Osvold for ten years. Right now, my hobby is going to school. Both Brian and I are in the MSW program together. We like to cook together. We catered for friends and family prior to starting school. We are looking forward to the summer semester ending soon and having some free time to enjoy.
 
<< All News