<< All News
Tuesday, July 12, 2022
Categories:
All News Items
News Event
Spotlight

This spring, the book Guidelines and Games for Teaching Efficient Braille Reading, 2nd ed. was released by APH Press. The first edition, which was released over 40 years ago in 1981, was written by two leaders in the vision world at that time, San Francisco State University Professor Dr. Sally Mangold and Dr. Myrna Olson from the University of North Dakota (UND). The second edition also has a UND professor at its helm. Renae Bjorg, PhD, who serves as the program coordinator of the Visual Impairment specialization at the University of North Dakota, was honored to write this updated version and follow in the footsteps of her own mentor, Dr. Olson. 

Collaborating contributors

Like her mentor, Dr. Bjorg didn't write this book alone. "The field is so small, so I invited some of my former students, Sara Careless, Sandra Kenrick, Danielle Moelter-Swangstue, and Amy Neils, to work on this book with me," Dr. Bjorg explains. "The students who graduate from our master's program with a specialization in visual impairment are phenomenal! It was fun to have all of us come together with different perspectives about braille and reading and writing to move forward the ideas and research of efficient braille reading. Additionally, teachers and leaders in the field of visual impairment and blindness with a wealth of experiences, including Dave Beckett & Laura Roy, and a professor who specializes in reading, Dr. Brittany Hagen, made powerful contributions, and without them, this book would not be what it is." 

One of these contributors had Dr. Olson as a professor years ago, and the lasting impression that Dr. Olson made on that student led to the partnership with Dr. Bjorg. "Myrna made such an impact on people's lives," Dr. Bjorg says. "She was the catalyst for this new book, and the impact that she had on her students and on me brought this book together better than if I'd written it by myself."

The power of braille 

The other author of the original edition, Dr. Sally Mangold, also left her mark on students in North Dakota. Fargo TSVI Julie Anderson was a graduate of the UND vision program. She traveled to San Francisco State to sit in on one of Dr. Mangold's classes and was inspired to take all of the courses taught by Dr. Mangold and graduate with her master's from San Francisco State. Dr. Mangold was the one who made "braille become real to me," Julie writes in memoriam to Dr. Mangold in the preface of the new edition of Guidelines and Games. "It had a central purpose and function. No longer a code, braille was a key for my students to unlock doors to creativity, self-expression, and independence." How did Dr. Mangold do this for Julie and for all the other students she taught? She and her husband were both blind, and they owned and operated a successful business out of their garage. They documented orders on a slate and stylus. They labeled everything in braille. Braille was the reason they were successful; without it, they wouldn't have been able to operate a business. To this day, Julie remembers that lesson and passes it on to her braille-reading students. She knows how important braille is and the power it can give those who read and write it efficiently.

Before collaborating on the original Guidelines and Games for Teaching Efficient Braille Reading, Dr. Mangold and Dr. Olson understood the importance of braille. Myrna was frustrated that her high school students had poor braille reading habits. Sally was a braille reader herself and had a unique perspective as an educator. They knew that better reading habits led to better learning in all walks of life, but they also discovered that by the time students reached high school, it was often too late to change bad habits. They decided instead to focus on how to enrich early braille instruction and prevent bad habits from forming in the first place. That is why Guidelines and Games was written, and its lessons have strengthened and supported countless braille readers and professionals in the four decades since its publication.

An updated classic

As the 40th anniversary of the book approached, it was still a best-seller and still relevant. Even without information about digital braille or refreshable braille displays, the book taught TSVIs, O&M specialists, general education teachers, occupational and physical therapists, paraeducators, and parents and caregivers practical, useful, and timeless ideas about the best ways to teach braille reading and writing and encourage literacy in general. "This book offers something unique," Dr. Olson writes in the preface to the second edition. The way it provides "ideas for adapting a general reading program to the needs of braille readers" was new to the field and has stood the test the time. In early 2020, APH Press reached out to Dr. Bjorg and asked if she'd be interested in updating the book that her predecessor at UND and mentor first wrote. Two years later, she can hold the book – the first one from APH Press that features simulated braille on the cover – in her hands.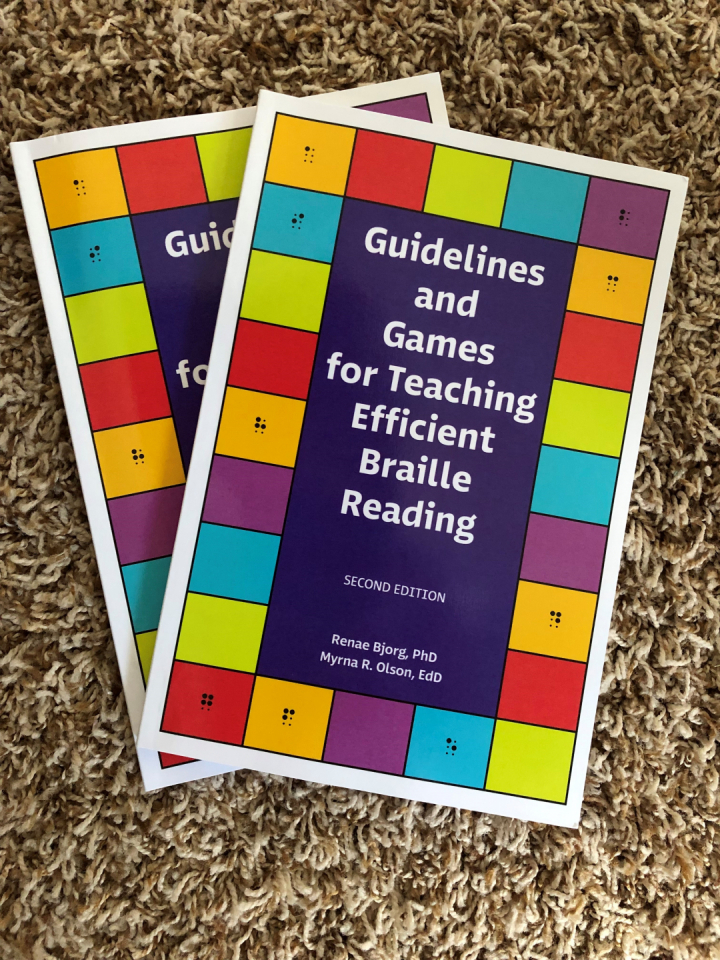 Besides now having information about refreshable and digital braille, the new edition also has important terminology updates and supports UEB instruction. "The outline of the book is the same, but the information, terminology, trends on reading, technology, sensory channels and braille are all updated," Dr. Bjorg says. The collaboration that took place during its writing is perhaps its strongest asset. "We each have our own lens, so it was important to me to include as many voices and perspectives as possible." Dr. Bjorg says. Each of her students and collaborators was able to provide ideas from their own viewpoint and their own experiences, which strengthened the book, and, in turn, will strengthen the field, as its readers put those ideas into use with their students.

One of the biggest takeaways from the book is what braille really is and why students are learning it. "Sometimes we're so focused on the fact that we're learning braille that we forget that we're learning to read," Dr. Bjorg says. Braille should not be separate from reading and writing instruction because it is reading and writing instruction. "If students in the classroom are spending an hour and a half each day learning how to read and write," Dr. Bjorg says, "then braille students should have an hour and a half each day learning how to read and write. It's reading and reading; it's not braille vs. print."

Making braille meaningful

Students learning braille are often pulled out of the regular classroom to work on their braille skills separately from their language arts classes. In fact, braille sessions are often scheduled during playtime, free time, or recess, which makes the idea of learning braille a chore, instead of an important life skill. Thus, "the teachers have to make it worth their while to lose out on playtime or recess or whatever it may be. They have to make it fun and important to their students," Dr. Bjorg explains, and this book provides many ideas to do just that. 

One of Dr. Bjorg's favorite ideas from the book came from Gayle Lamb, who supported the idea of making literacy skills meaningful and authentic. Lamb encouraged using braille to represent elements in a story, such as repeating the letter 'l' for grass, creating patterns to represents elements such as roads or bridges, and placing words over or under other elements to help students comprehend the story, as well as practice braille skills like scanning the page, tracking, and using a light touch. "You can use this idea for any story," Dr. Bjorg explains, and like many of the ideas in the book, "there's a domino effect, where you can take the idea with you and make it fit your needs and your student's needs."

It's hoped that this book will last another 40-plus years. But in the meantime, the process of writing the second edition of Guidelines and Games sparked something in Dr. Bjorg. "I love books, so this is really exciting to have in my hands," she continues. "I also love working with teams, and collaboration is so important to me." In addition to continuing to teach the vision coursework at UND, Dr. Bjorg will be researching and writing a new topic, with a new team – many with North Dakota ties – for APH Press. A book on serving students with complex sensory disabilities is in the works. "I never thought I'd be a professor, but I always knew I was a writer. I am good at seeing things in people that they have not seen in themselves and calling it out of them, helping them to find their niche. I love to remind people how beautiful and extraordinary they are and encourage them to live the life of their dreams," Dr. Bjorg reflects. "[Dr. Olson's] been a leading advocate and support in my life, so this feels a little bit like continuing her work and making this a better place for kids with disabilities and their families."
 
<< All News