<< All News
Wednesday, January 4, 2023 - 11:00pm
Categories:
All News Items
Spotlight
Student Programming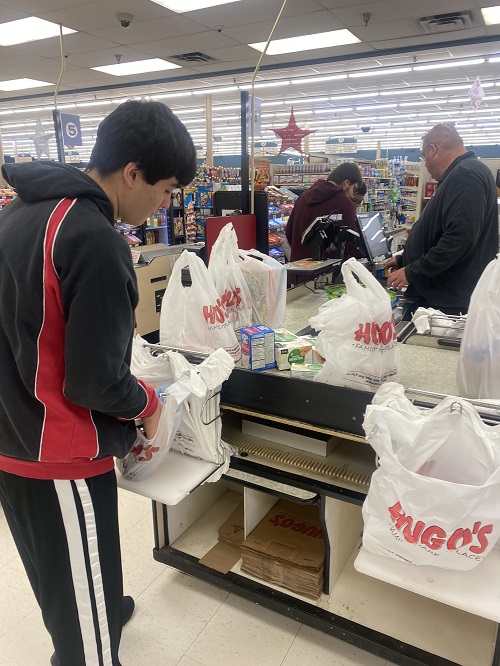 We periodically share a young adult's story of success. In this profile, Sheyenne High School senior Matthew Gallegos shares the lessons he's learned from his job at the Dairy Queen, from NDVS/SB, and from his TSVI. The skills he's learned have not only prepared him for whatever comes after graduation, but have instilled maturity and confidence, traits that are essential to any young person's success and happiness.
"Now hiring!" "Looking for extra cash?" "Please be patient as we are short on staff." You don't need to go far to find signs like these today. Stores, restaurants, and other places of business are all looking for more workers. Part of this problem can be explained by the fact that teenagers are working less than in the past. But some teens want to work, and Sheyenne High School senior Matthew Gallegos is one of them. Matthew is a shift lead at Dairy Queen, where he is responsible for "providing an excellent experience to customers, making ice cream and food products, and closing the store at the end of the night," he says. He shares that "most of my shift consists of taking customer orders, collecting payments, and assisting others in making menu items." He also creates a position roster for his coworkers on the schedule that day. 
Matthew found a job as a high schooler for the same reason most teens get a job – for the cash. But he had to consider a few other factors before he began applying for jobs. Since he can't drive, could he walk to it or take public transportation? What accommodations would he need to perform his duties? If customers or his coworkers had a question about his magnifier or cane, how would he politely educate them? Matthew had to consider these questions because he has glaucoma, which has rendered him legally blind since birth. He makes the most of the vision he has and says his visual impairment doesn't impede or slow down his work at Dairy Queen at all. The only accommodation he has, he says, is occasionally using his phone's camera to magnify the buttons on the digital register. "The buttons on the registers are rectangular and color coded against a black background, so naturally they appeal to my contrast preferences. I have memorized what each button says, so I will only pull out my phone's camera if I am unsure or if there is an update to the layout," he explains. "Management has been wonderful in allowing me to use my phone's camera for this purpose."
One thing that helped his coworkers and boss accept his visual impairment, he believes, was being upfront about it. When he was first hired, he invited NDVS/SB instructor Ken Dockter and Transition Coordinator Shanna Hanson to Dairy Queen to ensure he had all the accommodations he needed to be successful and to help his manager understand his needs. "I believe this did improve my manager's understanding of my situation," he says. But Matthew came in with the belief that he could do the job, and that confidence stemmed from having learned blindness skills – including career readiness skills – early on. "I think the best advice I can offer to other kids like me is to not let your blindness limit you," Matthew says. Not letting it – having the confidence to not let it – is a skill in itself, but Matthew has had plenty of good teachers over the years that have helped him learn those skills and gain that confidence.
Teen program weeks at NDVS/SB offer students many opportunities to learn critical job skills and those "adulting" skills that so many young adults today seem to lack. "At their local school, much of the focus is on academics and it can be hard to find time to work on independent living skills and work experience skills," explains Cindy Williams, Student Program Coordinator at NDVS/SB. "Our teen students are provided the opportunity to explore various work experiences, and our hope is this experience will spark a desire for them to pursue employment options, further education, and resources." At NDVS/SB, Matthew says he "learned how to cook independently, manage my own schedule, and even shop for groceries." But more importantly, "I learned that I am not alone. I learned that there are other people that I can relate to and talk openly with, which was a huge help in building my confidence and feelings towards blindness," Matthew explains. 
Cindy Williams agrees that often the students learn as much from their peers who they meet at NDVS/SB as their teachers. "The students who attend our programs may be the only student in their local school with a visual impairment," she explains. "While attending our programs, they meet peers who are going through the same experiences and challenges that they are. They are also exposed to mentors who they can relate to and learn from." The power in that, and the confidence it inspires, can mean more success in life now, as teens, and later, as adults.

Teacher of Students with Visual Impairments (TSVI) Danielle Hillebrand has also had a huge impact on Matthew. "She has provided me with everything I need to be successful and has opened my mind to new ways of doing everyday tasks without sight, such as reading and writing with braille, cooking, and travel to name a few," Matthew explains. Danielle, who served as Matthew's TSVI in West Fargo from the time Matthew moved to North Dakota in 5th grade through his junior year, now works for NDVS/SB, which means Matthew doesn't see her on a daily basis anymore. But he's grateful he still gets to work with her occasionally, since she now serves as his Orientation and Mobility instructor. "Mrs. Hillebrand helped me develop a better mindset regarding blindness, showing me that it is still possible to live and be successful without vision. Overall, she has gone above and beyond for not just me but all of her students," Matthew says. 

Matthew will be taking what he learned from his work at Dairy Queen, from attending programs at NDVS/SB, and from his teacher Danielle Hillebrand with him when he graduates this spring from Sheyenne High School. "I am anxious to graduate and move on with life. I have had amazing resources and people available to me throughout the years, and for that I am very grateful," Matthew says. "I am not entirely sure on what my plans are for after high school graduation, but some options I am considering include attending college for music production, working as an assistive technology trainer, or even working at the school for the blind itself." 
Danielle Hillebrand can't wait to watch Matthew continue to grow, learn, and succeed. "I am impressed with how he sets goals for himself and works hard, seeks out his resources, and perseveres though challenges," she says. "I feel so fortunate to have been his teacher, and I look forward to seeing all he will accomplish as he graduates from school and enters the next chapter!"

Whatever Matthew decides, there is no doubt that he will succeed. "It can be very difficult and frustrating living with a visual impairment," he says, but "I've found that with determination and the right attitude, most things can be learned and mastered without vision." 
 
<< All News