<< All News
Friday, June 3, 2022
Categories:
We periodically share a young adult's story of success. In this profile, Morgan Vanwell shares her journey after losing her vision at 19, just as she was deciding which path to take after high school. While her vision loss may have set her on a different track than she expected, she is grateful for all that has happened, and is excitedly looking ahead to the future, with binoculars at the ready.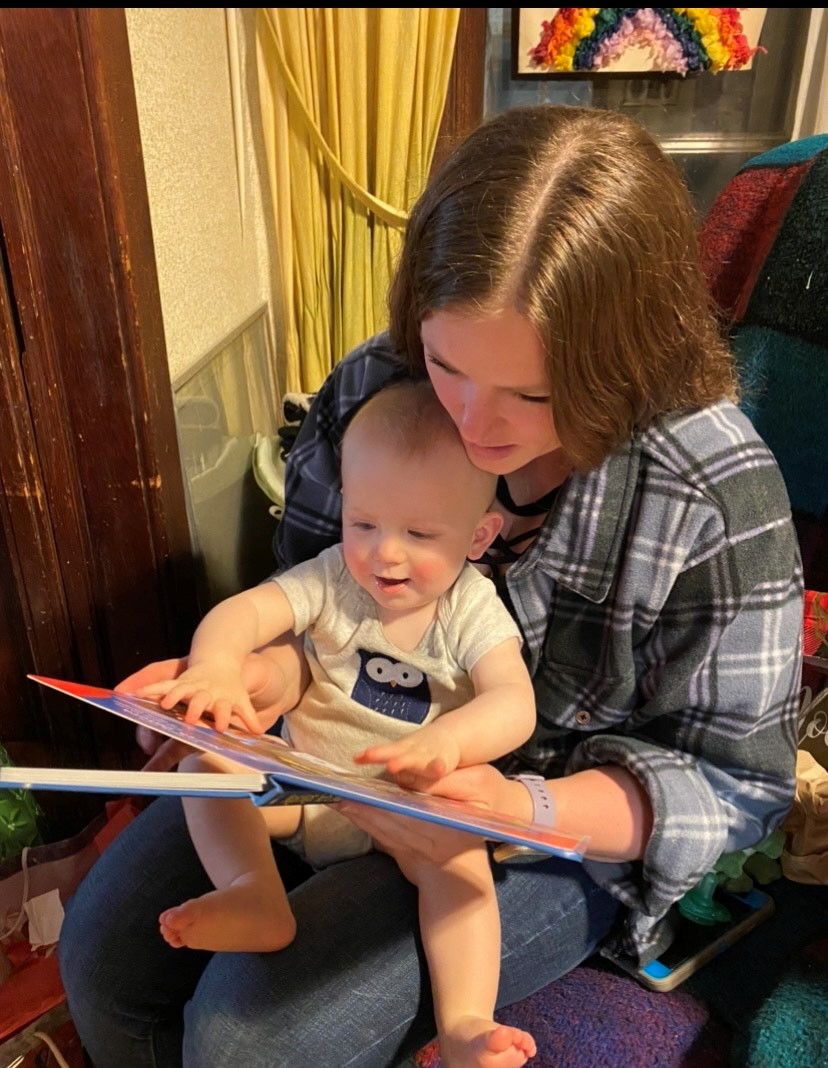 Jack Meagher, who was a pioneer in the field of sports massage, once said that "massage is the study of anatomy in braille." Morgan Vanwell agrees with Meagher's statement, because like all massage therapists, Morgan relies on her sense of touch to find the places in her clients' bodies that are adhered, or knotted up, and to help them relax and recover from injury or overexertion. But, as someone with a visual impairment, Morgan's trust in her sense of touch may be greater than other massage therapists'.

At 19, Morgan was diagnosed with Stargardt disease. "I am thankful I got many active years and was able to get my driver's license at 14 like the rest of my friends," she says. Looking back, however, Morgan first began to suspect something was amiss during her high school years. "I remember taking notes from the projector, and when the lights were off, I was not able to see the lines on my paper, so I'd have to ask the teacher keep half of the lights on," Morgan shares. "I also applied for a job that required you to be able to tell different colors apart, but I could not pass the colorblind tests." But it wasn't until she became afraid of the ball during summer softball that she knew something was definitely wrong. Morgan, who was very active in sports in high school, explains that when she would play catch, "I kept feeling like I was losing the ball and couldn't see it coming." She decided to go to her doctor, but, like many people who experience vision loss, it wasn't a simple process to get a diagnosis. Morgan had to be persistent, insisting that something wasn't right, and eventually she was diagnosed with Stargardt disease, which affects the retina and causes progressive vision loss. Suddenly, her struggles with light-sensitivity and colorblindness made sense. 

The decreasing vision she experienced during her young adult years was one reason she chose to become a massage therapist. "Although you can do anything with a visual impairment, I wanted to do something I would never have to worry about losing the ability to do," she says. "At that point I didn't realize all the resources and tools out there to allow the visually impaired or blind to do anything they want, so I chose a career I wouldn't have to stress about if accessibility was an issue." While Morgan may have picked her career path for practical reasons, it was perhaps always meant to be. "I had my first massage in high school and fell in love," she explains. "The medical field and body always interested me in school." While attending the Salon Professional Academy in Fargo, one of the exercises in her massage therapy program was to give a massage while under a blindfold so that the students would only use their sense of touch. Practicing with a blindfold wasn't difficult for Morgan, who calls her tactile ability "a gift" in her job. While going through training, she also made a habit of volunteering to have the teacher demonstrate different techniques on her instead of just watching. "I felt like I learned more when I could feel what the teacher was demonstrating," Morgan explains.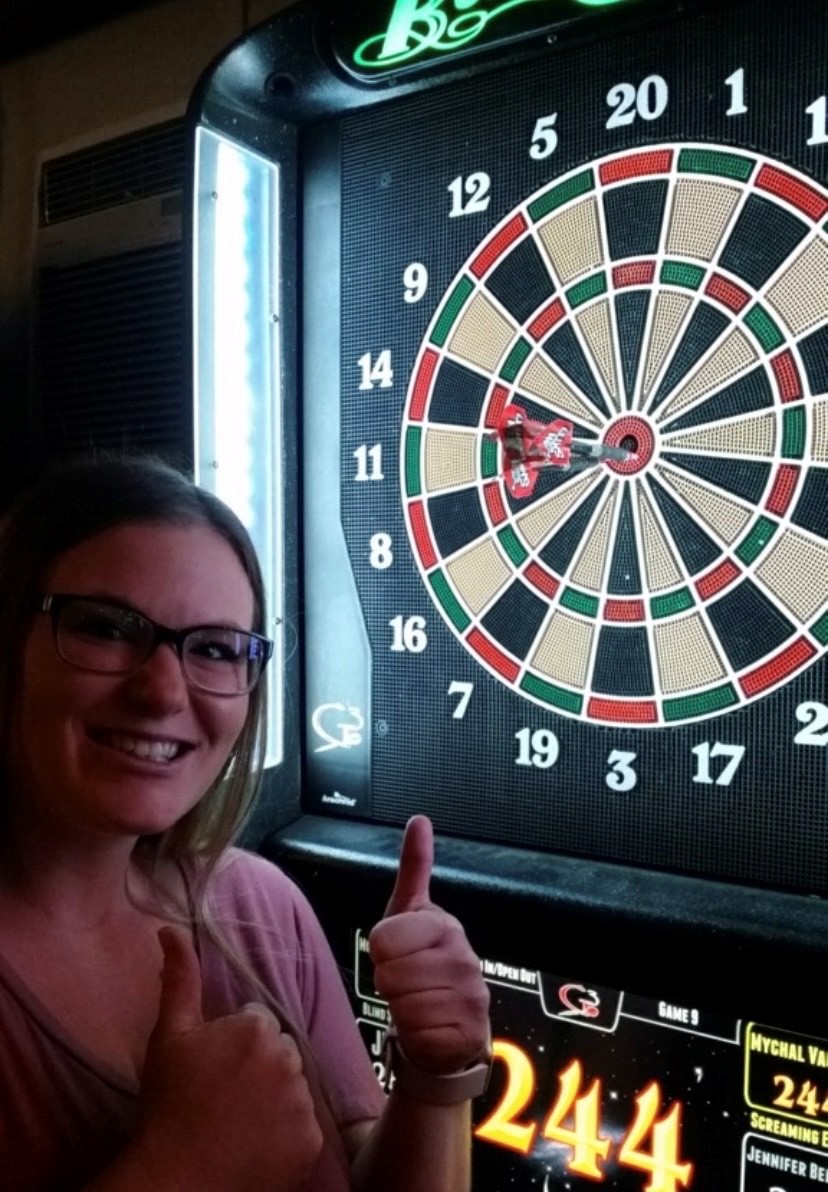 Soon after her visual diagnosis, Morgan received some training from North Dakota Vision Services/School for the Blind, but with her vision still relatively useable, she stored much of the knowledge and tricks she learned from the instructors there, some as simple as putting a ponytail around her conditioner bottle so she can tell it apart from her shampoo bottle, for later use. Morgan says she has learned the most from her peers, especially those she has met through her involvement with the North Dakota Association of the Blind (NDAB). Her connections there have also enabled her to stay active; she has participated in their sports and recreation retreats, Ski for Light, and their summer camp. She also stays active by playing in a dart league. "I can't see the board well from the line, and I cannot see any of the numbers, but I still can make out the bullseye and the different colored squares with my peripheral vision," she explains. When she needs a certain number, she simply walks up to the board to find the number, tries to memorize its location, and walk back to the line to try to hit it. "I actually win games against sighted people, and it's a lot of fun!" Morgan says. "People are so patient with having to wait for me a little extra longer than other players, but they are very supportive." 

The support she's received since her diagnosis – from her peers who have also experienced vision loss and from those with sight – have helped her stay independent. "I think the hardest thing was when I chose to give up my driver's license when I was 22. It felt like I was losing all my independence, and it took a long time for me to cope with that one, but I still find ways to get myself around and do what I need to do," she explains. That includes being a busy, working mom. 

Morgan is currently self-employed, giving massages out of a rental space near the home she shares with her boyfriend, Jeddrey, and their one-year-old son. "I love that I get to help people feel better when they have aches and pains, and that a lot of times coming to see me is the highlight of their week!" she says. As a working mom who also happens to have low vision, "it is really nice to be self-employed because you have the freedom to move things around if needed." She admits, however, that she has "really learned to adapt. There are things I still wonder about and worry about: how will I watch him play in sports or in school plays, or even how will I read books to him," she says. But she has found plenty of adaptations that help her in her busy, day-to-day life. "The main device I use is actually just the zoom on my iPhone. When I need to measure medication or bottles, I just zoom in." And on the job, "I don't have to stress about not being able to see well. The only thing I need to see are patients' intake forms and my notes after their appointments, but now there are apps you can use on a tablet or phone to magnify them."  

She even credits her low vision with making her a better parent. "I honestly think it has in some ways helped me because I am so hands on – always right there down on the floor playing with him, always sitting close during mealtime. I feel like everything gets washed twice, like bottles and spoons, just to make sure I get everything clean. So really, it's a little extra work but nothing hard about it," she says. And she looks forward to watching her son grow up – with some help from assistive technology. "In 10 years, I'll hopefully be watching sporting events and activities my kids are in, probably using my binoculars to cheer them on!" 
 
<< All News