<< All News
Thursday, February 17, 2022 - 11:00pm
Categories:
All News Items
Instruction
Spotlight
Student Programming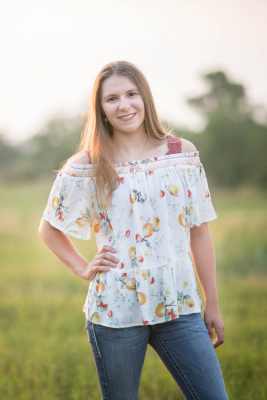 One of the biggest decisions in a high schooler's life is deciding where to attend college. Location, cost, degree programs, and so many other factors affect college choice. And for high schoolers who are low vision or blind, there are additional questions to consider. Will I be able to easily get around campus or around the community? Will the disability support services office accommodate me? Will I even know what accommodations to ask for? High school senior Faith Norby of Killdeer, ND, recently made her decision; she'll be attending the University of Mary in Bismarck in the fall. "When I went on a tour with my mom of UMary, I knew for certain that it was the college for me," Faith explains. 

Now that that big decision is out of the way, there are other questions to consider, some of which revolve around her visual impairment. Faith has cone dystrophy, a genetic disease that renders her colorblind and very light sensitive. But her low vision didn't stop her from having a "wonderful high school experience," she says. "I participated in numerous activities throughout high school including four years of cross country, two years of basketball, FFA, speech, science Olympiad, choir, one-act play, and our high school musical. I enjoyed high school because I was able to participate in activities that I was passionate about." By participating in these activities, Faith was able to gain self-confidence and begin to know her own strengths. "By participating in FFA I learned that some of my strengths are public speaking and organization. I also gained many leadership skills in FFA and cross country," she explains. 

Faith also learned self-advocacy skills through her activities but credits her family and her school's special education department with their support in her growth. "Having support allowed me to gain confidence in advocating for my needs at school. Self-advocacy is very important because as an adult in the real world, you are the only one who can stand up for your own needs," Faith says, and she found this out first-hand when taking a college-level speech course through ITV at her high school. "We were only allowed to have three note cards to use when we gave speeches, but this gave the rest of my classmates an unfair advantage. They could fit much more on their notecards because they could see smaller print. I could only write a limited amount on my notecard which I felt was unfair," she explains. So, she did something about it and learned an important lesson in self-advocacy. "I registered with the disability support service of the college that the class was through. Once I registered, I requested accommodations so that I could have the same experience as everyone else in my class. No one at the college level was aware of my problem until I advocated for myself and requested the accommodations that I needed to succeed." That simple request took courage and gave her even more reason to speak up in the future. "By being straightforward about what accommodations you need to succeed, you will be much more successful in school and life," she says.

Faith also learned life lessons on the job. She performed a variety of odd jobs throughout her high school years, including babysitting, clearing shelter belts, and painting. Her biggest obstacle, she notes, was transportation. "I can't drive so I had to arrange a way to get to these jobs," she explains. "Thankfully, I did most of these jobs with my best friend, Rachel, and she was able to drive me to most of them." Transportation is an issue for many individuals with a visual impairment, but Rachel doesn't believe not being able to drive will be an issue for Faith in the future. Faith has "learned that she has many people who will support her throughout her life," Rachel explains, and while "there might be sometimes where driving would be more convenient for her, she has more friends to help her than she knows." It's that support that Faith is so grateful for, and it's that support that has made her the confident, independent, ready-for-college young woman that she is. "I have enjoyed high school, but I feel that I am ready to take the next step in my life. I have had great support from my family and teachers, and I feel that my teachers have prepared me for the next step in my education. I am also grateful to my parents. Independence was always something they worked to teach me, and the independence I have gained will really help me as I transition into college," she says.

Family, teachers, friends, support services – all of these play a vital role in a student's success. For Faith Norby, they added up to a bright future, and she hopes to one day help her own students succeed. "I have known I wanted to be a teacher since I was in third grade. In ten years, I hope to be teaching high school English in a rural school district." It's because of her own high school experience that she's certain to be teaching her students not only reading and writing but how to face obstacles and overcome them, leading to confidence and success, just like her own teachers did for her. "Having support allowed me to gain confidence in advocating for my needs at school," she explains. "My teachers helped me with whatever I needed and gave me the confidence to strive for greater goals in the future." Goals that are sure to be met, a future that is sure to be great. 
 
<< All News